*
Good news for theatre lovers everywhere: One can still say the words "Mack & Mabel" to Francine Pascal.
"After this — if this doesn't work, I never want to hear the words Mack & Mabel again in my life!" she said following her latest rewrite of the notoriously troubled musical.
Pascal's involvement in the tragic love story of a Hollywood producer and his prized starlet may surprise some. The author is known for her best-selling "Sweet Valley High" book series that chronicles the lives of cheery California teens Elizabeth and Jessica Wakefield. What caused her to be involved in rewriting the book of a musical known for its heartbreaking ending?
For Pascal, it's a family affair. Her brother, the prolific Broadway playwright and librettist Michael Stewart, who wrote the books to musical hits Bye Bye Birdie and Hello, Dolly! as well as the lyrics to Barnum, penned the book for Mack & Mabel. The siblings also collaborated on the musical George M!. Mack & Mabel tells the story of silent film director Mack Sennett and his conflicted romance with his top female star, Mabel Normand. The original Broadway production ran only 66 performances despite featuring Robert Preston and Bernadette Peters in the title roles. Various productions over the years have attempted to revise the book, and Pascal made another effort at rewriting it for a run at the Chichester Festival Theatre in the United Kingdom.
"I had no intention of doing it," Pascal told Playbill.com. "I just talked to Jerry [Herman], and he was looking for someone to revise the book. I wrote him my ideas never expecting [to be the one], and he said, 'Would you like to try it?'"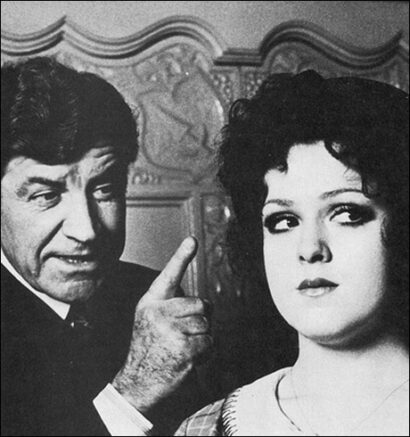 Pascal spoke lovingly of the musical, praising its music and lyrics, both of which were written by Jerry Herman and include Mabel's tragic ballad "Time Heals Everything" and Mack's declaration "I Won't Send Roses." The production, she said, was missing one elusive element, which she was determined to pursue.
"The music is exquisite. The lyrics are marvelous. Everything about it is so good. It just seemed if we could only tackle that element that was missing — find it — everything else seemed to be just waiting. There's no question about it: It didn't draw the audiences in to empathize with the characters and the love story. For me, that element happened to be right up my alley. God knows I've had experience with love stories."
The romance in Mack & Mabel is challenged by Mack's devotion to his work, which, as he tells Mabel, will always come before her. A driven and passionate man, Mack's limitations in romance resulted in the audience failing to connect with him in the original production.
"It's not easy with a character like Mack," Pascal said. "He's passionate, but he could only show it for one thing — obsessed with the movies, making people laugh. He was not good with people. He loved Mabel. There's just no question about it. That was pretty much my contribution: taking that love story, developing it, bringing it out so that the audiences could be involved in it and empathize with him."
Mack is portrayed by Olivier Award winner Michael Ball, the musical theatre star known for his performances in Les Misérables, The Phantom of the Opera, Aspects of Love and Sweeney Todd, while Mabel is played by Rebecca LaChance.
"When I saw that Michael Ball for the first time, I saw the smile and the dimples. I figured, 'Oh well, it doesn't matter. You can forgive him anything,'" Pascal said. "You actually didn't need that. He was Mack. All the complications. He was the best Mack I ever saw. I saw them all."
After opening on Broadway in 1974, directed and choreographed by Gower Champion, the musical received eight Tony Award nominations, including Leading Actor and Actress, Book, Direction and Choreography, but it did not win any. Pascal recalled the 1974 opening night, saying, "I knew that Mike wasn't satisfied and neither was Jerry. They weren't happy with it. Critics weren't either. If I remember correctly, it was not Gower's best moment. That's for sure. I think things were not perfect in his life at the time, and it seemed to show in the production. I only know that in looking at that script, and examining it very closely. It just didn't work right. You couldn't fool anybody."
One of the musical's challenges is its tragic ending, which chronicles Mabel's addiction to heroin and subsequent death. The original production faced criticism for avoiding the darker elements of the plot.
"You can't [avoid the tragedy]," Pascal said. "It's part of it. And you have the satisfaction of seeing a love story and knowing that he actually came through and was a hero at the end. It's satisfying despite the fact that it's sad, but it's not sad."
In the decades since its original Broadway bow, the musical has gained a reputation for being a troubled production. That frustrates Pascal, who said, "I got angry afterwards because there was always this litmus test for the theatre aficionado: You woke him up in the middle of the night and said, 'Mack & Mabel,' and he said, 'Great music. Bad book.' And he'd never seen a production, and [that] drove me crazy. That was one of the strongest reasons for doing this."
Mack & Mabel concludes its run at Chichester Sept. 5, and discussions of a transfer to the West End are currently being held, Pascal told Playbill.com.
"The company manager told me a couple of weeks ago that they're looking to transfer it to the West End and just looking for a theatre," she said. "That's certainly the first step. That's where it would go. I doubt it would make the leap [to Broadway] without the West End. I'm hoping we find a theatre fast enough. We don't want to lose any of the cast."
Regardless of the musical's future, Pascal is optimistic for its reputation to be adjusted in the culture of musical theatre.
"I think people know that show has so much going for it. It's great. It just needed to be taken another step forward. It was on the edge, the cusp of greatness."
(Carey Purcell is the Features Editor of Playbill.com. Her work appears in the news, feature and video sections of Playbill.com as well as in the pages of Playbill magazine. Follow her on Twitter @PlaybillCarey.)