A Star Wars musical is coming and you don't have to be in a galaxy far, far away to see it. The aptly named A Musical About Star Wars – or Why Star Wars is the Greatest Thing in the Galaxy, Much Much Better than Star Trek lands Off-Broadway on Theatre Row March 20.
Creator and co-writer Tom D'Angora (NEWSical the Musical, The Marvelous Wonderettes) describes it as "[title of show] meets Shakespeare Abridged about Star Wars."
The musical comedy follows a show-within-a-show as Star Wars superfans Taylor and Scott, played by co-book writers Taylor Crousore and Scott Richard Foster, respectively, join forces to create a new musical about their longtime infatuation in order to play the stages on the Comic Con circuit. They find themselves in need of a female lead, and, after holding a round of auditions, they meet Emily. A recent AMDA grad—played by Emily McNamara—Emily snags the role, but she has an ulterior motive: to shut the show down due to Star Wars' notorious lack of diversity and problematic female tropes in the original films.
"[Taylor and Scott] discover Emily's sinister plot and they basically strike a deal with her, saying, 'Stay with us for the night, let us tell you why we believe Star Wars is the greatest thing to ever happen in the history of the galaxy,'" says D'Angora. "'If we can convince you, you'll stay with us and we'll get to Comic Con. If you still feel the way you do, we'll shut the show down and your protest has worked.' But they go through a journey of all the amazing things that Star Wars has done and answer all of her questions."
The three characters are based on Crousore, Foster, and D'Angora's different relationships with the Star Wars franchise. "Scott is old-school, Generation X—we call him a 'Gen X-winger'—and loved the original trilogy," D'Angora says. "Taylor's the 'Millennial Falcon' and as a kid, his first exposure was the prequels, and he loves the [1990s and 2000s] prequels!
"I'm also a kid from the '80s, but I'm this gay political activist who was obsessed with the first six films, and then started questioning, 'Wait, I think there might be sexism in these films and I don't think there's representation in the films.'" Emily's character is inspired by D'Angora's concerns, but, the full musical is fueled by his renewed love for the series since the releases of the most recent film in which representation and strong female leads have become a priority.
The musical features an upbeat pop score by composer Billy Recce with numbers such as the title track "A Musical About Star Wars," "The Lucas Orgy" (about their hero-worship of Star Wars creator George Lucas), and "The X-Wing Effect" (a reflection of how major historic events of the past 40 years can all be traced to Star Wars).
"We want this to be the fans' show," D'Angora says. "I'm going to give them an e-mail address. I want to hear what people like, what people don't like, what people are upset is missing, and see if we can come as close to the perfect fan experience as we possibly can."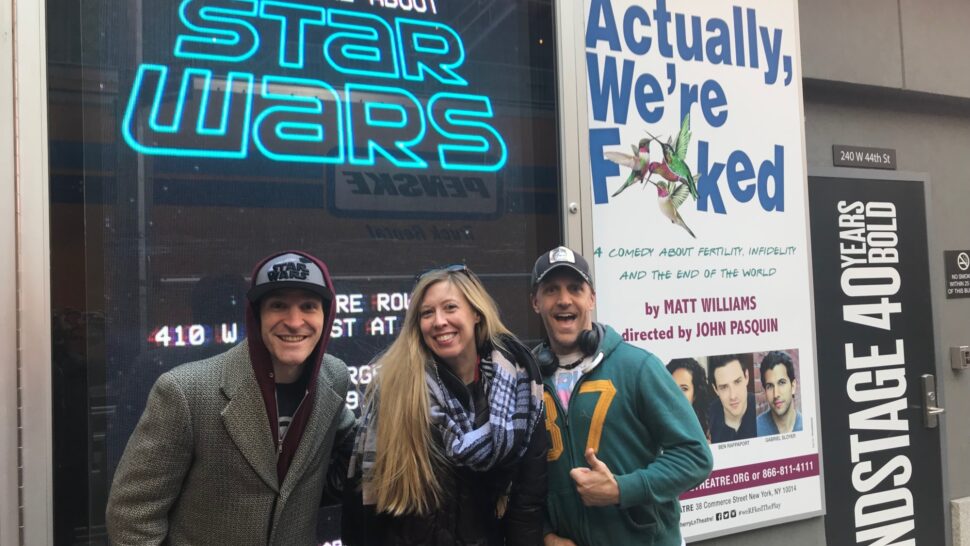 But don't worry, A Musical About Star Wars is not just for Star Wars-lovers. "As one of the characters is learning about [the franchise], we're hoping you'd be able to follow it if you haven't seen it, leave the theatre, and then go home and binge-watch the entire canon."
As for whether or not fans will see some familiar characters onstage, D'Angora teases, "It is three NEWSical alumni, so we do have three people who do great impressions."
As with any spoof, the show mixes Star Wars gibes with a great respect for the films and its fanbase. "You get to see what's so special and meaningful about this incredible franchise through the eyes of two superfans," D'Angora says. "[It's] how it weaves into their backstory, and why it means so much to them, and how it really can be for everyone even if you don't think it is."
A Musical About Star Wars starts previews at the Kirk Theatre at Theatre Row March 20, and officially opens, fittingly enough, May 4, which has turned into a social media holiday #maythe4thbewithyou. Visit AMusicalAboutStarWars.com for more information.