*
June 26, the United States Supreme Court announced its decision on landmark case Obergefell v. Hodges, sending a resounding message across the country that love always wins. Over the weekend, America celebrated. In Washington, D.C. we took pictures of ourselves in front of a White House bathed in rainbow colored lights. In New York City and San Francisco, we danced in the streets for Gay Pride Parade. We put celebratory filters on our Facebook profile pictures and re-tweeted gifs of Justice Ruth Bader Ginsburg — aka the "Notorious RBG" — riding a rainbow-adorned motorcycle into the sunset (thanks Audra McDonald!) We popped open bottles of bubbly and toasted to the decades of direct action, community building, and dear friends who are no longer with us but whose legacies live on through their fights for equality.
We have a long way to go. While same-sex marriage is now legal in all 50 states as mandated by the 14th Amendment, there are several states without the antidiscrimination laws needed to ensure equality for LGBTQ people in the workplace and in their communities.
This month, Playbill.com has been sharing stories of remarkable individuals making significant contributions in the fight towards equality. Today, we're shining the spotlight on straight allies who have used their star power to advocate for LGBTQ equality. Here are notable individuals whom we can look up to as we work together to build upon the success of last week's historical victory. Onward!
Mark Ruffalo is well known for playing the role of Marvel Comics hero, The Hulk in "The Avengers" and "Avengers: Age of Ultron." But the 47-year old actor is also our hero for his impassioned performance in the HBO movie "The Normal Heart." This film, directed by Ryan Murphy, was adapted from Larry Kramer's autobiographical play that premiered in 1985. In "The Normal Heart," Ruffalo plays the lead role of Ned Weeks, a gay writer fighting to save the lives of his friends and loved ones in the midst of the burgeoning HIV/AIDS epidemic of the early 1980's. Throughout the film, Ruffalo brings Ned Weeks to life through several emotional moments of searing dialogue. One memorable scene includes a conversation in which Ned tries to convince his wealthy brother Ben to help fund research for HIV/AIDS — which the government largely ignored at the time. "I am the same as you, just say it. Say it!" In this scene, Ruffalo delivers his lines with passion and conviction.
Ruffalo is an outspoken advocate for LGBTQ equality both at home and abroad. In 2014, Ruffalo publically endorsed Brazilian presidential candidate Marina Silva for her progressive environmental policies. He later retracted his endorsement when he learned that her administration might not support same-sex marriage.
"I can not, in good conscience, support a candidate who takes a hard right approach to issues such as Gay Marriage and Reproductive rights even if that candidate is willing to do the right thing on environmental issues." Ruffalo wrote on his Tumblr page. Silva's stance against same-sex marriage is speculated to be one of the reasons why Silva did not advance in Brazil's presidential elections.
Kristin Chenoweth is known by theatre-lovers for her role as Glinda in the Broadway musical, Wicked. The petite blonde from has starred in an array of popular TV shows including "The West Wing," "Pushing Daises," "Hot in Cleveland" and "Glee." Her film repertoire includes "Bewitched," "The Pink Panther" and "Running with Scissors." In 2009, she published her first book, "A Little Bit Wicked."
Two things that the Emmy and Tony winner isn't afraid to openly discuss are her Christian faith and her unconditional support of LGBTQ equality. In an interview with The Advocate, Chenoweth discussed how in 2005, she was fired from a Women of Faith concert after the organization learned that she was a vocal supporter LBGTQ rights. In her interview with The Advocate, she refers to this moment as the saddest in her professional life.
Chenoweth is currently a member of the Human Rights Campaign's Americans for Marriage Equality program. In her video promoting the campaign, Chenoweth says, "Look, the bottom line is that regardless of how you were made or who you love, you should be able to get married if you want to get married."
Audra McDonald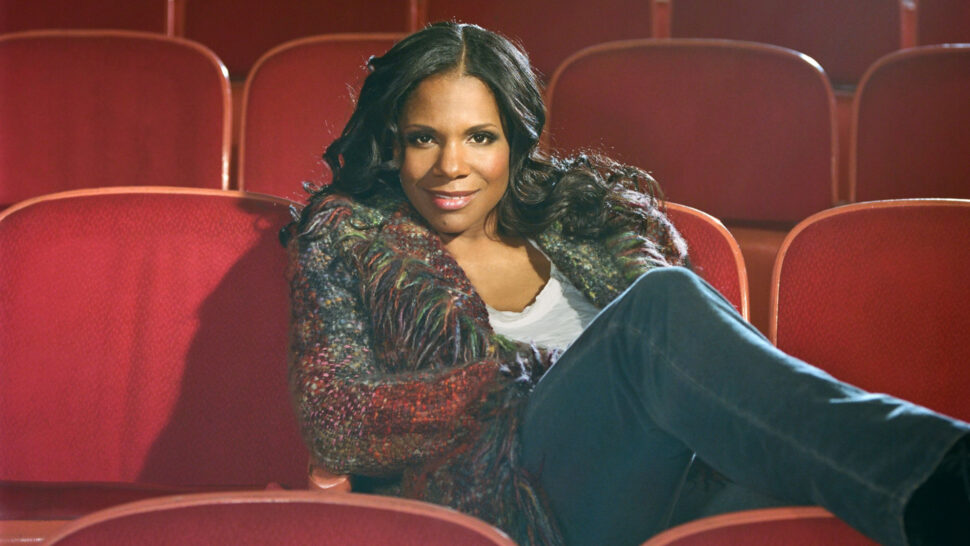 Audra McDonald has a voice to be reckoned with — both as onstage and in her advocacy for same-sex marriage. The 45-year old actress and songstress has starred in Ragtime, Porgy and Bess and A Raisin in The Sun, among others. She is the recipient of six Tony Awards and two Grammys. She also known for her role as Dr. Naomi Bennet in "Grey's Anatomy" and "Private Practice."
A vocal supporter of LGBTQ rights, McDonald tweets under @AudraEqualityMC. In March, McDonald used her social media clout to call out Indiana Governor Mike Pence for signing the Religious Freedom Restoration Act into law shortly before her band was set to perform in the state. Critiques worry that the law will protect businesses that refuse services to LGBTQ clients due to religious preferences. McDonald wrote:
.@GovPenceIN Some in my band are gay & we have 2 gigs in your state next month. Should we call ahead to make sure the hotel accepts us all?
 .@GovPenceIN or could you maybe send us a list of where its okay for us to go? Might the law apply to me?(I'm black).
McDonald didn't cancel her performance. Instead, she donated the proceeds to the Human Right Campaign and Freedom Indiana.
Daryl Roth is the producer of over 90 award-winning plays. The daughter of a car-dealer, the New Jersey-native has won eight Tony Awards and produced seven Pulitzer Prize winning productions. In an interview with MOGUL last year, Roth said that producing Cindy Lauper's and Harvey Feirstein's Kinky Boots (2012) and Larry Kramer's The Normal Heart (2011) were two "highlights" from her career.
"During a performance on the evening of June 24th [2011] the New York State Marriage Equality Act was passed in Albany. At the curtain call, we announced the momentous news to our audience, which led to cheering and crying, and was one of the most memorable nights I've ever had in the theatre," she told MOGUL.
In 2012, Roth was awarded Hostetter-Habib Family Award by her son Jordon Roth, president of Jujamcyn theatres. Jordon Roth, who is gay and one of the most prominent figures in theatre, presented his mother with the award during the Family Equality Council's annual Night at the Pier event. Roth received the award for her tireless efforts to bring The Normal Heart to the stage and for her contributions to Broadway Cares/Equity Fights AIDS.
Though Daniel Radcliffe is synonymous with the owl-wielding boy wizard Harry Potter, the 25-year old actor says that his involvement with Trevor Project is one of the most important things he's done with his career.
The Trevor Project is a nonprofit organization that provides suicide and crises prevention services to LGBTQ youth. The organization was founded in 1994 by James Lecesne, Randy Stone and Peggy Rajski, the filmmakers of Trevor — an Academy Award winning short film about a 13-year old queer boy who attempts suicide to escape being bullied. Radcliffe has made several donations to the Trevor Project and spoke in a PSA announcement to promote the Trevor Lifeline — an anonymous suicide prevention hotline.
"Gay people should have equality in law everywhere. If you grow up as a young gay man knowing you don't have the same opportunities as everyone else, you're going to feel victimized and massive prejudice towards you," Radcliffe told Attitude magazine. Among Radcliffe's notable recent works is his portrayal of queer Beat-era writer Allen Ginsberg in the 2013 film, "Kill Your Darlings."
"I was quite shocked when I did all the press for 'Kill Your Darlings' and how much of a talking point it was for people that I was playing a gay character," he told The Advocate. "Because my mom and dad were involved in the same industry and had a lot of gay friends who I grew up around, it was always normal to me."
Philip S. Birsh, Playbill's CEO and President, Treasurer of Broadway Cares/Equity Fights AIDS
When Philip S. Birsh took over the helm as Playbill's CEO and president in 1993, he was eager to see how new media platforms could be used to reach Playbill's readers. He launched Playbill.com in 1994 and teamed up with America Online to webcast live from the Tony Awards in 1995. Last year, under Birsh, Playbill began celebrating LGBTQ Pride Month by switching its iconic yellow logo to rainbow colors and publishing features on notable members of the LGBTQ community.
"The Broadway community has always been on the forefront of this issue—leading the way to prove that equality, love and respect matters," said Birsh last year. "Playbill continues its support for this vital cause by honoring all the outstanding efforts made by the community at large and will lend our magazine—the magazine of Broadway—to celebrate all the theatrical community has done to further the efforts towards fairness and equality." Birsh has been the treasurer of Broadway Cares/Equity Fights AIDS for the past 21 years and is a longtime corporate partner of Family Equality Council.
In recent years, Judith Light has won two Tony Awards for Featured Actress in a Play for her portrayal of Silda Grauman in Other Desert Cities (2012) and Faye in The Assembled Parties (2013). She became famous for her role as Angela Bower in Who's the Boss and soap fans recognize her as Karen Wolek from the series "One Life to Live" — which she won an Emmy for in 1981. Light has had an extensive career in television and over the past decade, she's appeared in "Ugly Betty, Law and Order, and Nurse Jackie, and most recently, the Golden Globe-winning comedy Transparent (2014).
In "Transparent," Judith Light plays Shelly a mother of three whose husband has just announced his transition from Mort to Maura. In the series, her daughter Sarah (played by Amy Landecker) decides to leave her husband for her ex-girlfriend Tammy. The family must learn to grow and support and love each other despite these changes. The series is available for streaming on Amazon.com.
On June 1, "Transparent" was honored by Transgender Legal Defense & Education Fund at the Freedom Benefit Awards. Light, who is a longtime LGBTQ activist, hosted the event. "If you can use your celebrity to be of some kind of service and use your artistry in some way, that's what we're going to do and that's what we're getting to do, so it is life changing in some way," Light told Outtake Media.
Hugh Jackman is beloved by movie-lovers of all ages for his longstanding role as Logan/Wolverine in Bryan Singer's X-Men films. A versatile actor, his voice helped him land a lead role as Jean Valjean in the 2012 film "Les Miserables." Jackman is less known for his performance as Peter Allen in the musical-based-on-a true-story, The Boy from Oz (2003). The Boy from Oz captures the story of Allen, a protégé of Judy Garland and husband of Garland's daughter, Liza Minnelli. The musical, which follows Allen's life, also tells the story of Allen's relationship with Greg Connell and accepting his homosexuality. Through taking on the challenging role, Jackman demonstrated his aptitude for the stage. The play also gave him an opportunity to champion for LGBTQ rights and a cure for HIV/AIDS — causes that Jackman frequently supports. This past December, Jackman made headlines when he auctioned off the clothing he wore in his latest Broadway play, The River. Taylor Swift, who was in the audience for his afternoon performance, snagged one of his shirts for $6,000. He raised another $8,000 and donated all of the proceeds to Broadway Cares/Equity Fights AIDS.
Justice Ruth Bader Ginsburg
We'd be remiss if we didn't give a shout out to Justice Ruth Bader Ginsburg, also known by her supporters as the Notorious R.B.G. Justice Ginsburg, 82, has served on the Supreme Court of the United States since 1993, and she is the second woman appointed to the position. Throughout the span of her career, she's been a professor at Rutgers School of Law-Newark and the Columbia Law School. In 1980, President Carter appointed her to the US Court of Appeals for the District of Columbia Circuit by President Carter. She's made women's equality a focal point of her career and co-founded the Women's Rights Project at the American Civil Liberty Union.
On the Supreme Court, Justice Ginsburg has been one of the staunchest supporters of same sex marriage. She's refuted the argument that same-sex marriage defies a millennia of tradition by stating, ""Marriage today is not what it was under the common law tradition, under the civil law tradition. Marriage was a relationship of a dominant male to a subordinate female. That ended as a result of this court's decision in 1982, when Louisiana's Head and Master Rule was struck down. Would that be a choice that state should be allowed to have? To cling to marriage the way it once was?"
Since 2013, Justice Ginsburg has officiated three same sex marriages. In May, Justice Ginsburg married of Michael Kahn, artistic director of the Shakespeare theatre Company and architect Charles Mitchem. When Justice Ginsburg married the two men, she did so by the powers vested in her and "in the Constitution of the United States." According to guests, she purportedly put special emphasis on the word "Constitution" along with offering a "sly look." It's been speculated that she was directly alluding to the Supreme Court's affirmative ruling on Obergefell v. Hodges.
As if we needed more evidence that you can't spell truth without Ruth.
We think it's crucial to thank stars like Kristin Chenoweth, Audra McDonald, Mark Ruffalo, Daniel Radcliffe and so many more who have used their talent and celebrity to raise awareness of the inequalities so many Americans continue to face. We're giving special shout outs to these straight allies for staying true to their beliefs and standing up for what they know is right in their heart of hearts — even if speaking up means losing members of their fan bases. We also know that you, our readers, are tireless advocates and allies and so we honor and stand with you too.