Extended through May 29 at Off-Broadway's Signature Theatre, the world premiere of Samuel D. Hunter's A Case for the Existence of God stars former college roommates Will Brill and Kyle Beltran. In the David Cromer-directed play, two men meet in an office cubicle. Through their meetings, they begin to open up about their lives as they struggle through life's challenges, and seek ways of moving forward.
The co-stars, who met their freshman year at Carnegie Mellon, sat down with Playbill to discuss how their history helped them take on the play's intimate portrayal of a vulnerable friendship.
Though you currently co-star in A Case for the Existence of God, you two originally met in college and were roommates, right?
Kyle Beltran: Will and I were assigned by cosmic destiny. There were a lot of upperclassmen, and at the dorm orientation, Will and I were the only two drama kids there. I remember being very relieved there was another theatre nerd.
Will Brill: You were clean-shaven at the time, and I had a goatee. Each of us was assigned to live with a senior, and over the course of the first semester, we convinced them they did not want to live with us, and that it would be more conducive to their lifestyles if they were to live with each other. Thus, allowing Kyle and I to live with each other.
How did you go from college roommates to co-stars?
Beltran: Going through drama school together is one of the most intense, intimate experiences. It bonds you for life, it's so all-consuming. It requires so much of you and you see so much of each other. One of the best things about doing this play has been sharing it with our classmates, because they really understand how wild it is that Will and I ended up in this play together.
Brill: We did one reading together in the last 17 years. This is the first performance we've done together, including scene work in class. Somehow, we lived together and never did a scene together or a play together. It feels like we've been saving it for this.
Beltran: Will and I, we have such intimacy, we've known each other for so long, so deeply, that there's just an immediate safety net to go to the most vulnerable places and know someone will be there to catch you. There's such a depth of trust built. I can't think of a better project than this to work on.
Brill: It's mind-blowing. So, I got invited to do a reading of this play in December of 2019, and when I first read it, immediately I thought 'Kyle is the other guy. It's me and Kyle.' So, I sent it to Kyle and was like 'am I crazy? This is us, right? We should be doing this.' And without either of us suggesting it to anyone other than ourselves, we wound up in it together.
Beltran: It's cosmic. It's creepy, almost. Will sent it to me, he even suggested we read it together to help him prep for the reading. But in lockdown, a group of actors and theatre people that Marin Ireland organized were reading plays together online to stay connected, and that became this theatre company called the Commissary which is now producing the work for the Vineyard. But Sam Hunter brought the play to that group and I actually read Will's part in that. So, we both did separate readings of it and then later got asked to do readings together. And we both thought the other had gone to the creative team to pitch us as a team. But they didn't even know we knew each other.
Brill: And what Kyle is saying about the intimacy of theatre school, whenever anyone asks me about a person I went to theatre school with, my initial response is 'I've seen him naked. I know that person inside and out. We are in some ways, the same person.' When Cromer asked if we knew each other before this, we were like 'you have no idea.'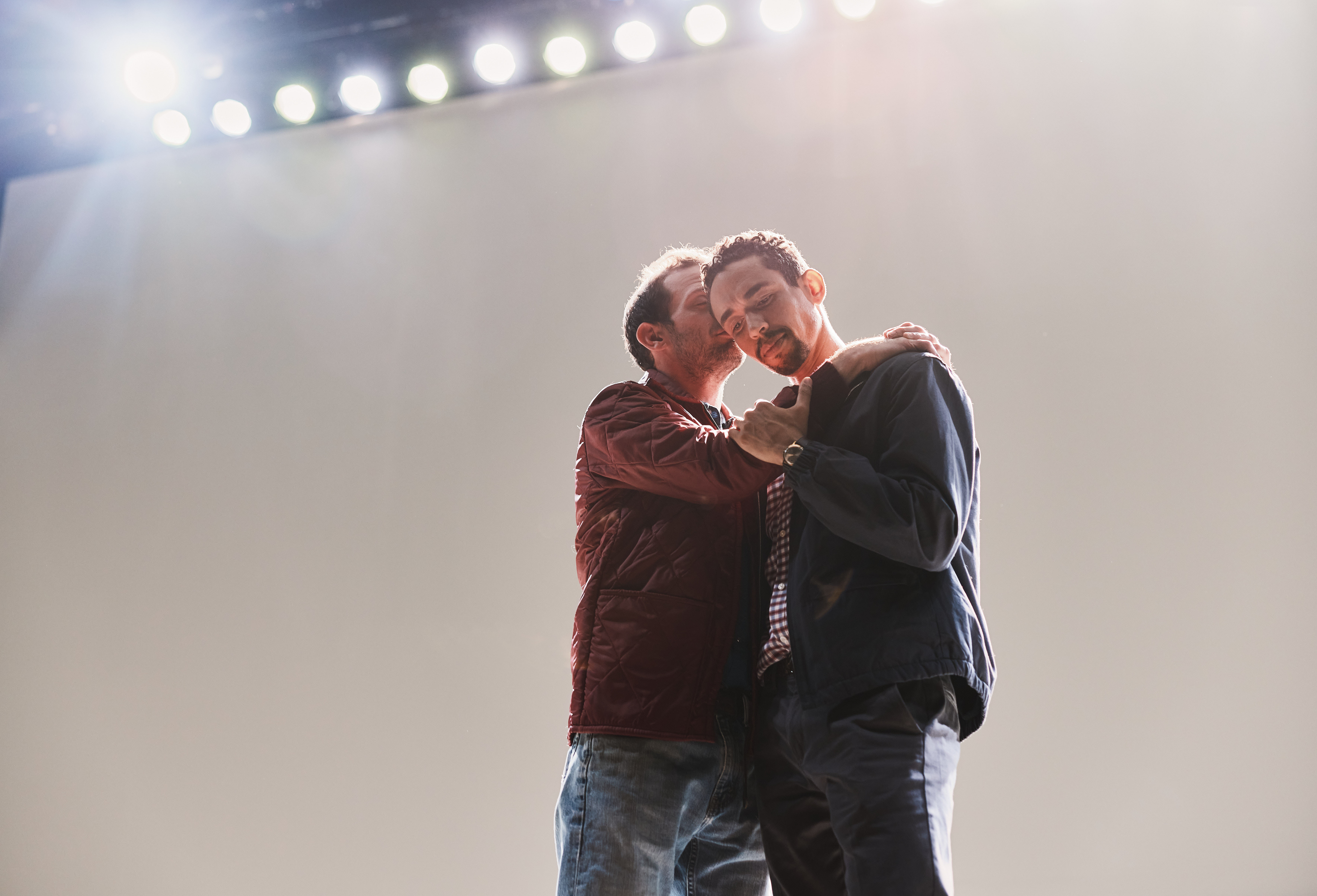 What are some of the challenges of working on the piece?
Beltran: I think a play like this is the most fulfilling, challenging thing that either of us have ever worked on because it requires so much of you. It's like the concentration Olympics, it is so many words. The language is so specific; it's an actor's dream because of all the 'likes' and 'ums.' One of the notes we will get from time to time is to remember that we don't know each other.
Brill: 'Remember you don't know each other's sense of humor. Remember that you're not intimately connected at the top of the show.' Usually, the hurdle in any project is building familiarity with someone and it was the opposite thing in this, we had to pretend to not know each other. But something that was cool and sometimes a little challenging is, having never worked together previously, we saw each other's processes for the first time and we were like 'oh, we work differently.' I've seen Kyle on stage so many times, and always deeply admired his work, and this is the first time in our 17 years of knowing each other that I got to look behind the curtain and see him in that way.
Beltran: I think we did a really good job of taking care of each other. You can't work this intimately on something this intense at heart and not have moments where it gets a little rocky. But I think we did a really good job, in the rare moments when we were experiencing something very differently, moving through it.
How do you interpret the title A Case for the Existence of God?
Beltran: I feel like the play is really, in many ways, a meditation on faith, but not faith in just a religious sense, but in a more expansive way that explores how each of us gets up each and every day and moves forward. We all take a leap of faith every moment of our life. There's real grace in the ways we survive, connect, hold on, and hold each other.
Brill: A friend came to the show recently, and told us that he often talks about the idea of God being the space between two people. And that's a really beautiful metaphor for this play.

See Inside the Opening Night Below: