Imagine you have just met your biggest celebrity crush and instead of asking for an autograph, you muster up the courage to ask him or her out. The two of you have a magical first date and as you lean in for a kiss… Snap out of it! This may be just a sweet daydream for most people, but for 13 Playwrights co-founder Madeleine George, who is now married to her idol, the legendary downtown-turned-Broadway writer and performer Lisa Kron, it's real life.
Before they became a playwriting power couple, George was photocopying pages from a borrowed copy of Kron's hit play 2.5 Minute Ride and buying tickets for the Tony nominee's shows at PS 122. She never expected that years later she would not only be married to Kron — who George's downtown performance-world friends referred to as "our Madonna" — but would also score a Pulitzer nomination for her hit Off-Broadway play The (curious case of the) Watson Intelligence the same year Kron was nominated for writing the book and lyrics of the new musical Fun Home.
The theatre has become a more interesting place with these two talented writers living under the same Brooklyn roof — as recently proven with the opening of Fun Home on Broadway. At home they have a running dialogue about the intricacies of plays and playwriting — from the philosophy of dramatic action to the motivations of Shakespeare — and their partnership has provided them with the varying perspectives needed to make successful and affecting works of theatre. For this latest edition of "A Fine Showmance," Kron and George explain how their relationship evolved from a fake-career-advice coffee invite to an intimate wedding reception in director Leigh Silverman's apartment. It's the stuff hit shows are made of. Maybe one day, we'll see their love story unfold on a Broadway — or downtown — stage. Until then, read on!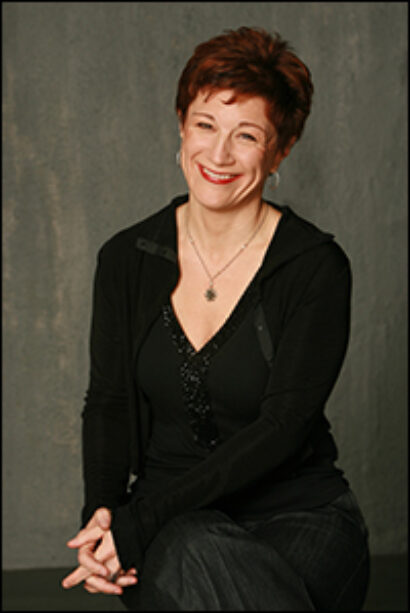 How did the two of you meet?
Madeleine George: I asked Lisa to be in a benefit at Joe's Pub for my theatre company, 13 Playwrights, and she came and did about eight minutes of effervescent standup. Then I followed up by asking her for fake career advice. I was like, "We need to have coffee. I'm going to quit the theatre. You need to give me advice." I was just trying to see if she'd show up. She did, so then I daringly moved to the next step, which was to ask her for a real date.
Lisa Kron: We have slightly different stories, because I think I was pursuing Madeleine and she was ignoring me…
MG: That's not true. Lisa, did you see through Madeleine's fake coffee invite? Did you think it was a date?
LK: No, I was super into her, but I felt like I was getting no traction for a long time.
MG: She was a celebrity to me, so I didn't want to come across as fawning or anything.
LK: You definitely did not.
MG: I failed to make eye contact at every turn, just to make sure she didn't get the wrong idea.
LK: Madeleine also used to help run this master class series called Pataphysics at the Flea Theater and she asked me to come teach it. Madeleine is a really exceptional teacher, and I am not. One of my first memories of Madeleine was when I started to teach this class. She was looking at me like, "You have got to be kidding me."
MG: No!
LK: She denies it, but she knows that it's true, and she was not wrong. I'm a much better teacher since I've been with Madeleine George. She really hooked me up.
MG: That was years before the benefit though...
LK: Yes and I was totally into her since then.
How did this mutual attraction finally turn into more?
MG: My sister gives out what she calls "butch dating advice" and when I was trying to switch from fake career advice to an actual date, my sister was like, "Don't mince words. Be really specific. Be like, 'I think you're cute. We should go on a date.'" This happens to lesbians all the time: They can't figure out how to do that. Instead they're like, "Let's have a book club, or whatever…" I'd never done anything like that before, but it really paid off.
LK: I don't think I'd ever been on a date before, actually.
MG: Lesbians need to take a page from the heterosexuals. They really know how to date.
LK: That's true. We had an excellent first date.
What did you do on your first date?
MG: Well, I just want to say that this was a turning point for us, because I was on a roll, right? I was thinking that I was really going to take the bull by the horns. I emailed her and was like, "I'll plan us a fine night, and you'll show up at this hour and I'll sweep you off your feet." The next day I get a response from her being like, "That sounds amazing, but I have a couple of suggestions about what we might want to do." In the end, the date was entirely her plan.
LK: That's true. I was in this Spalding Gray show Stories Left to Tell [at Minetta Lane Theatre] so Madeleine picked me up in the theatre after the show. My friend, the producer, David Binder, had organized this show of Claude Cahun photographs in the courtyard of [The General Theology Seminary] in Chelsea, so we had planned to walk there from the theatre. [When she picked me up] Madeleine said, "We have to go in this deli and we have to buy beer, because this date is not going to be possible unless we start drinking now," so we bought beer, which we drank out of paper bags as we walked up. The show was outside and the photos were lit. It was really beautiful. [After that] we had an incredible late-night meal at Cook Shop and then we just walked around for a long time. It was really, really fun.
That's sounds like such a great New York date! When did you realize that you were each other's "the one"?
LK: We dated for awhile, but then we had stopped seeing each other. I used to write at The Writers Room in Astor Place and I had told Madeleine that she should also go. She didn't think it was a good idea for us both to go there, but I [convinced her] it was. Then we stopped seeing each other, and it seemed like not such a good idea. The Writers Room is this big silent room and everybody has a little carrel. I hadn't gone there in awhile and we hadn't talked to each other in a few months, but one day I decided to go and when I stood up from my carol Madeleine was there, on the other side of the wall. I was so happy to see her.
MG: And I was so horrified. I was like, "It's my nightmare: We broke up, and now we're both here."
LK: We silently indicated that we should go into the coffee room. We had this really nice conversation and when we went back to our carols both of us knew the other one was right on the other side of the wall. I was like, "Oh my God, I have such strong feelings for her." After we left I called her and asked her to meet me. She was panicked because she thought I was going to say that I didn't want her to come to the Writers Room anymore, but of course I was not calling to say that. When she asked me where we should meet, I said, "Cosi," like C-O-S-I, but at Astor Place there's also Cozy Soup 'n' Burger, and in a panicked voice Madeleine was like, "Cozy or Cosi?!" I still think about that every time I ask her to one of those places. Then it was all good, and we decided we were going to get back together.
That's hilarious. Madeleine I can't imagine how nervous you were!
MG: Oh my God, I was like, "I guess I'll go meet her and she'll set the terms for making sure we never see each other in public again. I might have to leave the theatre after all."
What was your wedding like?
LK: It was super low-key. We knew it was going to be low-key, but it got even lower-key. We had planned to go to City Hall on a Monday afternoon with just four people and then have a little reception with about 20 people in Leigh Silverman's apartment, but Madeleine's sister had a family crisis and was not able to make it on that day, so we actually postponed the ceremony. Then it was very awkward because it was like, "What are we going to do? All these people who are still coming to a party, on a Monday afternoon, weirdly, but there's nothing happening."
MG: We ended up having a little impromptu ceremony with Lisa's friend Carolyn Patierno, who's a Unitarian Minister, but it was a very small thing.
LK: Then on April 1st, we actually got married with just a couple of people there.
What is it like being married to another writer? Do you give each other advice? Do you have the same work habits?
MG: Lisa has an extraordinary, almost super-human ability to concentrate. When she's working, many things can be happening around her like ceilings collapsing, dogs howling… She's really inside the work, she's not distracted and I'm really the opposite.
LK: You have to pretend like everyone you know is dead.
MG: Sometimes I have to pretend like my entire social network has been wiped out in an apocalypse just to get an hour's worth of work done. I'm very distractible, but it turns out to be great for me because when Lisa is in her deeply concentrated state she can be sitting on the couch with me and it's like she's dead.
LK: If I could, I would read every line to Madeleine out loud as I write it, and Madeleine will work on a play for years and I will never see it until I finally get to read it when it's done. She shares more with me now...
MG: Yeah, but I don't have, as Lisa does, a long storied career as a solo performer, so I'm not necessarily quite as voluble. [In my early twenties] I can remember standing at the copier and photocopying 2.5 Minute Ride, against copyright laws. Sorry.
LK: You owe me 14 dollars.
MG: I took it out of the library, but I loved it so much, so I copied it.
Madeleine, it's interesting that you came into this relationship seeing Lisa as sort of a celebrity…
MG: The thing that was so great for me was that because I felt like it was inconceivable that we would be together, I was able to be with her for quite awhile during a time that I think I would normally have been too panicked to stay. I kept thinking, "Well, this is obviously just going to end, because this is ridiculous. It's Lisa Kron!" My friends had been going to see her at PS 122 for years. She was known as "our Madonna."
LK: [The downtown performance world] is so tiny.
MG: I think just in terms of relationship mechanics it was helpful to me to get into the relationship assuming it was always going to end. That's a funny way to let your guard down, but the ultimate result was that it accidentally ended up being quite functional, because I had no expectation. None.  
Now you are a power couple! What was it like in the fall of 2013, when both Fun Home and The (curious case of) the Watson Intelligence were opening Off-Broadway and then you both were nominated, separately, for a Pulitzer Prize?
LK: When the Pulitzer nominations came out we were at my parents' house in Lansing, Michigan for Passover. We were on the third floor on a kind of antique hospital bed looking at clown dolls and a stack of like 20 defunct computer printers. It was a particularly weird place to be when that happened. It was a very surreal experience. I was on the phone with [Fun Home composer] Jeanine [Tesori] and we were so excited that all three of us got nominations. Then I went down to tell my parents and they had a little trouble comprehending it. It was like, [Lisa:] "Mom, Madeleine was nominated for the Pulitzer Prize." [Mrs. Kron] "Madeleine won the Pulitzer Prize?" [Lisa] "No no no. I was also nominated." [Mrs. Kron] "You won?" [Lisa] "No, nobody won the Pulitzer prize." Both of our cellphones were kind of exploding, while the conversation with my parents went back to: "Is there a better sale on eggs at Kroger or at Meyer?" Then we went to the Seder and people asked us what we did. When we told them we were playwrights they asked if we'd written anything they'd heard of, and we were like, "No, probably not." In that moment, what are we going to say? "Interestingly just a few hours ago both of us, independently, were nominated for the Pulitzer Prize." Who would believe that? People would be like, "What is wrong with those two girls?" There was just no possible way.
MG: It was very exciting for five minutes and then we basically put it on the shelf and proceeded like normal for the next eight hours.
That is insane! Do you talk a lot about your plays at home?
LK: We talk about theatre not, I mean we talk about productions, too, but we talk a lot about plays and playwriting. I think there's a constant conversation about the nature of theatre in our house, not about the business, but really about the nature of plays. It's super theatre nerdy.
MG: One of Lisa's great intellectual quests of her life is the pursuit, the understanding and the penetrating of the kernel of dramatic action, like, "What is dramatic action?" It's so interesting to me. The kind of mechanical and also philosophical approach to that question that she takes has taught me a tremendous amount. I don't think I would have even known how to articulate that question except that she's thinking about it all the time.
LK: Similarly, Madeleine, over the past couple of years, has been really thinking about many things, one of which is, Shakespeare and how unlike modern theatre it's not psychologically driven. Madeleine has had her own really profound formal questions about the theatre. We have very different approaches and we have very different sort of obsessions, but we're quite interested in what the other one is thinking about.
Has the influence you've had on each other and the conversations you have made you become different writers since you've been together?
MG: I feel like I'm more the writer that I was going to be because of talking to Lisa. It's not like, "I'm going to take a page from Lisa's book."
LK: Well, obviously you did. You photocopied!
MG: Right! But I feel like the conversations we have lead us to a better understanding of what our own projects can be.
LK: Writing plays is hard. You are trying to create a world from multiple perspectives. It's been my experience that you need other people to help you see around corners you couldn't see before. Fun Home, for instance, was a very tough nut to crack in many ways, and I had many conversations with Madeleine about certain moments where she was really able to help me figure something out that I wouldn't have figured out [otherwise]. She brought particular perspectives to certain things that I didn't have on my own.
Madeleine's play, The (curious case of the) Watson Intelligence examined the fear of getting deeper into relationships and was written around the time you moved in with each other and premiered the year you were married. Did that play feel like a reflection of how Madeleine was feeling at that time? Do you often see each other, or your relationship in each other's writing?
LK: Because Madeleine does a huge amount of research for her plays, I knew that there were all kinds of things that Madeleine had been thinking about for a long time that went into [Watson]. Maybe I was naive, maybe there was more about our relationship in there than I thought, but these were long-term ideas she had been looking at and I thought of it as a continuum of ideas that she'd been exploring in her previous plays. Also, when we first got together I was expressly forbidden from ever writing about Madeleine.
MG: Lisa has sometimes worked autobiographically in the past.
LK: I was basically told it was a dealbreaker.
Why was that a dealbreaker for you Madeleine?
MG: Because I am a writer and I need to retain my life rights in the relationship. I just can't give them away. I have to make my stuff out of it, but I don't think I understood about the Watson play. At a certain moment I suddenly looked at it and was like, "Yeesh, this is kind of a dark set of concerns for the year of your marriage, but whatever…" I think that I can put concerns to bed pretty efficiently by writing plays about them. My previous play is about lots of things, but one of the things it's about is jealousy and the fear that the relationship is going to be co-opted by people from the person's past. That set of concerns is not really active anymore. It helps to think about it in a comic form or a theatrical form.
Sometimes when you're a writer things can come out in your writing that you weren't even aware of… and that can be scary when you're in a relationship.
LK: That's true, and I think that's why for so many years I was much more comfortable writing things that were based on autobiographical stories than fiction. I used to feel like if I write something straight forward it's much less vulnerable than if I write something fictional and everybody can see my subconscious that's unknown to me.
MG: At least if there's two writers you can strike back. If you're like a CPA and you're married to a writer, what are you going to do? They have a monopoly on rhetorical expression.
LK: That's true except the CPA could take away all your money, but I really like that you assume the writer is more powerful in that relationship.
Right! That's a nice thought. What do you like to do together that's not work related?
LK: We had this great date one time where we took the B63 bus all the way down Fifth Avenue in Brooklyn to Bay Ridge and Madeleine presented it to friends as just like the coolest thing ever. As soon as she started [telling them] I was like, "No don't tell them; this is going to go really badly."
MG: We had middle eastern food in Bay Ridge. I thought that was the greatest adventure. I was so excited to talk about it and people looked at me with such pity when I said that we'd had a fun night taking the B63.
LK: Madeleine really does the kinds of things that most people just say they are going to do in New York City. She's a great explorer of the city. I'm more like the kind of person who thinks of myself like that in theory, but doesn't really follow through on my own. Madeleine really does it, so, aside from the theatre, we really love having some kind of New York City exploratory adventure.
MG: We like gardening and we have a preoccupying elderly dog who needs a lot of care, but he's very cute. We have a better life than what we're saying. Don't we have more interesting things we could say?
LK: Well the fact is these things are deeply interesting to us. We're a little bit like elderly ladies.
MG: This is bad for lesbians to say these things out loud. We should be like, "We do heroin and smash patriarchy. We go to shooting ranges."
LK: No, we garden and take the bus…
MG: Oh, God.