Angels in America is a timeless, introspective testament to love and loss during the 1980s AIDS epidemic in the U.S. Though the current revival plays the two-parter as one epic Gay Fantasia on National Themes, the original Angels played Part 1 Millennium Approaches May through December 1994 and Part 2 Perestroika November 1993 through December 1994.
As a whole, Tony Kushner's Pulitzer Prize-winning play explores socio-economic divisions and disconnects of faith in New York City's gay community through characters such as (but not solely) the real-life Roy Cohn, the power hungry lawyer and public figure, Belize, the black ex-drag queen and nurse, Harper, a woman trapped by her marriage to a closeted husband, and, of course, the profound and vulnerable prophet Prior Walter.
The dichotomy Kushner illustrates throughout Angels in America is one of progress and stasis. On the one hand, The Angel preaches that humanity must come to a standstill in order for God to return; on the other hand, Prior argues stagnation is inherently inhuman, saying "the world only spins forward" as he beckons the audience to pursue "More Life." Kushner humanizes these opposing ideologies through biting commentary on politics—specifically the Reagan administration's near dismissal of the AIDS epidemic. When the play premiered on Broadway in 1993, the audiences had lived through the crisis; but prior to the mounting of this revival, Tony-winning director Marianne Elliott needed to capture the urgency of the moment for a younger generation who saw gay marriage legalized and knows HIV as treatable.
Despite its singular context of 1986 New York, the plays resonates with timelessness.
As the cast of the current revival—Andrew Garfield, Nathan Lane, James McArdle, Denise Gough, Lee Pace, Susan Brown, Nathan Stewart-Jarrett, Beth Malone, ensemblists Amy Blackman, Curt James, Rowan Ian Seamus Magee, Matty Oaks, Jane Pfitsch, Ron Todorowski, Silvia Vrskova, and Lucy York, and company members Patrick Andrews, Glynis Bell, Mark Nelson, Genesis Oliver, and Lee Aaron Rosen—prepare to take their final bows July 15, Playbill revisits the original cast of the game-changing Angels in America and where they are now.
Stephen Spinella, Prior Walter

Winning two consecutive Tonys and two consecutive Drama Desks for his performance as Prior Walter (Part 1 in 1993 and Part 2 in 1994), Spinella has since returned to Broadway several times. Spinella originated the role of Alfieri in 1997's A View from the Bridge and also appeared in Broadway's 1998 revival of Electra. Spinella's next Broadway role, Freddy Malins in James Joyce's The Dead in 2000, marked his Broadway musical debut and earned him his third Tony nomination as well as a Drama Desk Award. In 2002, the actor appeared in the revival of the Pulitzer-winning play Our Town, which was nominated for an Outer Critics Circle Award for Outstanding Revival of a Play. After a time away from the stage, Spinella performed in the original 2006 production of Spring Awakening, which later won Best Musical at the Tonys. Most recently, Spinella starred alongside Estelle Parsons as her character's estranged son in the two-hander The Velocity of August. Spinella has become a failiar face in television due to shows like The Education fo Max Bickford, 24 (series regular in 2006), Royal Pains, Desperate Housewives, and Will & Grace. He also appeared in the HBO film version of The Normal Heart, another seminal work of the theatre and gay culture.
Ron Leibman, Roy Cohn

Whie Angels marked Spinella's Broadway debut, it caps off Leibman's Broadway career, currently. A cast member of Kushner's Angels in America since its 1992 world premiere in Los Angeles, Leibman won the Tony for Best Actor in a Play for Millennium Approaches and was nominated for Outstanding Featured Actor for Perestroika. HIs previous credits include Drama Desks wins for We Bombed in New Haven (1969) and Transfers (1970). Leibman was also part of the original Broadway cast of Rumors in 1988. Despite not having appeared on Broadway since Angels, Leibman has continued performing in New York, taking part in the Shakespeare Festival's 1995 production of The Merchant of Venice, for which he earned his third Drama Desk nomination, as well as a nod in 1998 for A Dybbuk: Between Two Worlds. His other stage performances include the 2001 concert performance of A Connecticut Yankee and God of Vengeance in 2002. Leibman has also acted on the silver screen and television alike; before his Angels days, he won an Emmy in 1979 for Kaz. He's appeared in shows such as Friends as Rachel's dad, The Sopranos, and Archer.

Marcia Gay Harden, Harper Pitt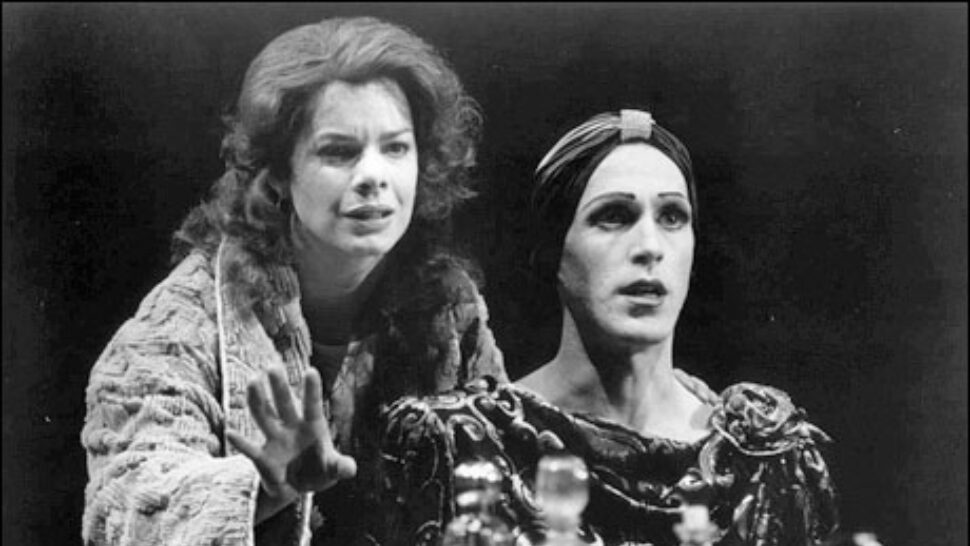 Harden's portrayal of Harper, a housewife driven to valium addiction due to her unfulfilling marriage, earned her Tony nominations for both Millennium Approaches and Perestroika and a Drama Desk nomination for Millennium Approaches. She has since appeared in productions of The Seagull (2001) at the Delacorte Theatre, The Exonerated (2002), and God of Carnage (2009), for which she won the Tony for Best Actress in a Play. In 2017, Harden performed in Sweet Bird of Youth by Tennessee Williams in Chichester, England. Harden also leads a wildly successful film and television career––most recently on shows such as Trophy Wife, The Newsroom, How to Get Away with Murder, and Code Black. She won an Academy Award in 2001 for Pollock and a second nomination in 2004 for Mystic River. Harden is also a two-time Emmy nominee and released the memoir The Seasons of My Mother:A Memoir of Love Family, and Flowers earlier this year.


David Marshall Grant, Joe Pitt

After his Drama Desk-nominated performance in Millennium Approaches and his Tony-nominated performance in Perestroika, Grant appeared in the 1997 production of The Three Sisters as Kulygin before turning his career towards writing in 1998. Grant penned several plays such as Snakebit (1999), Current Events (2000), and Pen (2006). His play Snakebit earned him nominations for the Drama Desk Award for Outstanding Play and an Outer Critics Circle nod. Grant has also served as a screenwriter for the ABC series Brothers & Sisters, where he later became showrunner, as well as for the NBC musical series Smash. Grant can be seen on screen in movies like The Devil Wears Prada and The Stepford Wives.


Joe Mantello, Louis Ironson
Playing Louis, the character given one of the best-known monologues from the show with "Democracy in America," it's not difficult to see why Mantello was nominated for a Tony Award for Millennium Approaches. In addition to pursuing his acting career––he starred in the 2011 Broadway revival of The Normal Heart and the 2017 Broadway revival The Glass Menagerie––Mantello has directed dozens of Broadway shows, most notably Love! Valour! Compassion! (1995), Wicked (2003), Take Me Out (2003), and Assassins (2004), the first and latter two both earning him Tonys. He earned Tony nods for his direction of Glengarry Glen Ross (2005) and The Humans (2016). Most recently Mantello directed the 2018 production and Broadway bow of Three Tall Women, starring Laurie Metcalf, Glenda Jackson, and Alison Pill as well as the currently running The Boys in the Band (2018). All in all, Mantello has eight Tony nominations and three wins.


Jeffrey Wright, Belize/Mr. Lies

Earning a Drama Desk Award and Tony Award for Best Featured Actor in a Play for his performance in Perestroika as the ex-drag queen and nurse Belize, Wright has returned to Broadway multiple times. He played 'da Voice in Bring in da Noise, Bring in 'da Funk (1996), Topdog/Underdog (2002), which earned him another Tony nomination. He followed that up with A Free Man of Color (2010). Additionally, Wright has starred in film and television; his career came full circle with a reprise of Belize in HBO's adaptation of Angels in America (2003), for which he won a Primetime Emmy Award as well as a Golden Globe Award. Wright's additional appearances include the TV film Boycott (2001) as Dr.Martin Luther King, Jr., The Hunger Games:Catching Fire and Mockingjay (2013-2015) as Beetee, and the current HBO series Westworld (2018), for which he was just nominated for a 2018 Emmy.


Ellen McLaughlin, The Angel/Emily

The titular Angel herself, McLaughlin performed in every U.S. production of Angels in America leading up to its Broadway debut. A graduate of the Yale School of Drama she has returned many times to perform in the school's repertory theatre and to teach classes; she has been teaching at Barnard College in New York City since 1995. Focusing more on her talent as a playwright, McLaughlin wrote several acclaimed plays including Septimus and Clarissa, Tongue of a Bird, and The Trojan Women, which earned her a Drama Desk nomination for Outstanding Adaptation in 2017. McLaughlin has appeared in several films, most notably Junior (1994) and Manhattan Romance (2015).


Kathleen Chalfant, Rabbi Chemelwitz/Henry/Hannah Pitt/Ethel Rosenberg/Prelapsarianov

Nominated for both Tony and Drama Desk Awards for her Broadway debut in Millennium Approaches and a Drama Desk for Perestroika, Chalfant has pursued her passion for performing live theatre. She returned to Broadway in 1995 to perform in Racing Demon, originating the role of Heather Espy. Chalfant also performed in Shakespeare in the Park's Henry V in 1996 (for which she won a Joe A. Callaway Award); Nine Armenians, which earned her another Drama desk nomination in 1997; MCC Theater's Wit in 1998, which won her a plethora of awards, including an Outer Critics Circle Award, a Lucille Lortel Award, and a Drama Desk Award; Off-Broadway's A Walk in the Woods (2015), which earned her another Drama Desk nod; and Rose in 2016, which earned her a Drama Desk nomination for Outstanding Solo Performance.More recently, Chalfant has taken part in several Playwrights Horizons productions, including Dead Man's Cell Phone (2008) and For Peter Pan on her 70th Birthday (2017). Chalfant has also appeared on television several times, playing recurring roles on Madam Secretary, The Affair, and House of Cards. Chalfant was honored with the 2018 Lifetime Achievement Obie Award.