Renowned choreographer Twyla Tharp is back at New York City Center this season revisiting two of her iconic works: In the Upper Room, featuring a score by Philip Glass, and Nine Sinatra Songs, set to classic Ol' Blue Eyes standards. The double-feature program runs October 19–23.
We asked the world-class performers of In the Upper Room (ITUR) and Nine Sinatra Songs to reflect on the experience of working closely with choreographer Twyla Tharp. Some of them are frequent Tharp collaborators, others newfound acolytes, but all of them had something insightful to offer about their time in the rehearsal room.
Kaitlyn Gililand
Twyla's the first one in the studio every morning and the last to leave at the end of the day. It's an incredibly demanding and rewarding way to work; every day you give your best to the movement and every day you expand your belief in what you can achieve as a dancer.

Is this the first time you've worked with Twyla, or have you danced with her before?
KG: This is technically the second time Twyla has rescued me from retirement, and it's been more than four years since I've been onstage, and even longer since I've performed in New York City. It's a surreal and intimidating homecoming that would feel impossible without Twyla's faith in my dancing.
Richard Villaverde
I saw Nine Sinatra Songs when I was a young dancer, probably in high school. Made me fall in love with Frank Sinatra and all his music.
[Twyla] really has a gift for seeing more than just the steps you're doing. She challenges you to bring yourself into character right away and can tell the slightest difference in your energy or approach. It's quite impressive.
Lloyd Knight
There's only one Twyla Tharp! She's spicy, fun, intelligent, caring, and demands the most out of you and I'm here for all of it. As an artist this has been one of my most important learning lessons.  
What's one word you'd use to describe this rehearsal process?
LK: A challenge! In the best way of course. My mind has been blown with the knowledge this woman has. She's pushed me to the edge and back mentally and physically. I'm going off the rails a little, but I have to add how truly special it is to share this experience with this beautiful cast!
George Sanders
What's unique about working with Twyla Tharp? 
Unique isn't a word I'd use. For some reason it just doesn't seem intelligent enough to describe someone like Twyla. The vast amounts of knowledge she has to bring into the studio … she can really give you every ounce of detail of what you should be doing or moving through. Honestly she's pretty groovy.
One word?
GS: Lit.
Jada German
The first time I saw Twyla's work was actually in my dance history class in my second year at Juilliard. I remember being struck by her creativity, bravery, and revolutionary spirit. It's crazy to now be learning some of the works that I once only marveled over in school. I went to the open call audition, honestly with no expectations at all, and then was shocked and honored when I received the casting invitation!
Julian MacKay
The first time I saw a live performance of her choreography was when I was still working in Russia, and I remember going to see Push Comes to Shove at the Mariinsky Theatre. I was watching dancers who are all good friends of mine doing steps I thought I could understand, in a completely different way than I had seen before. 
It's very rare that you get the opportunity to see how an idea was developed; to see how simple and complicated a shifting of weight can be. 

Reed Tankersley
What I find unique about Twyla's rehearsal process is that there is so much history in the room—along with a no-bullshit attitude. When remounting repertory, like what we're doing now, she brings a wealth of information, a catalogue of archived performance videos and rehearsal footage. I always feel like I'm learning from each rehearsal.

One word?
RT: "Invested." Although, "sweaty" is an extremely close second. 
Cassandra Trenary
Twyla knows exactly where every movement stems from in the body. I always walk away with new information about my own body and how to experience each moment on stage. There is opposition and rare coordination, though to her it is perfectly natural; when I find it, it brings freedom and the ability to lose myself in the work.
When was the first time you saw Twyla's work? What stuck with you?
CT: The first work I saw of Twyla's, I was an apprentice with American Ballet Theatre and they were performing In the Upper Room. I had the chance to sit in on every tech rehearsal of ITUR. More than anything I remember being entranced. The dancers entering and exiting through the smoke as if ethereal beings, mixed with the physicality of the choreography, with Phillip Glass' swirling score; it was transcendent. There was a powerful energy and ownership of self that was demanded of every dancer. All I could think the first time I saw it was, "I have to be a part of this one day." 

Marzia Memoli
Working with Twyla is a unique experience because she has the ability to push each dancer to their maximum potential. Whenever you are physically or mentally exhausted, she will ask you to dance one more time—but with a different energy, approach, or even meaning. Believe it or not, you're inspired to work harder, find more energy, and try with all that's left in your body to deliver what she asked for. 
One word?
MM: I would say "Stimulating." But it's a very difficult question, one word isn't enough after all these months.
James Gilmer
The first time I saw or ever even heard of Twyla Tharp or her choreography was when I was first starting as a student at Pittsburgh Ballet Theatre School, when the company was set to perform In The Upper Room. What's stuck with me about her work is the attention to the dancer. [Twyla's] generosity along with her precision and vision have amplified my experience in the studio and on stage!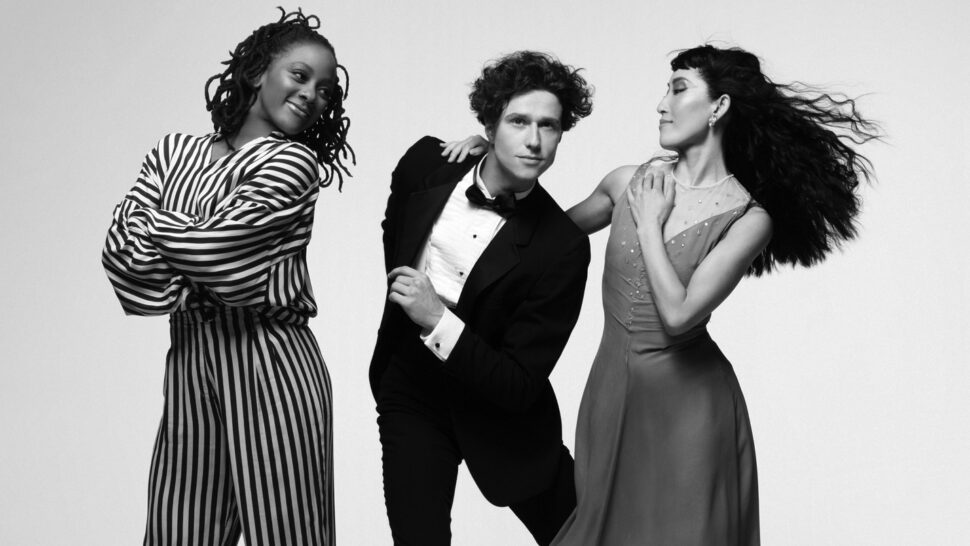 Benjamin Freemantle
The first time I really experienced the entirety of [Twyla's] work was last year when City Center put on TWYLA NOW. What struck me most was how human each piece felt. It seemed that each dancer was fully in the moment and that they were on stage for each other, and not the audience. It felt as if we were all witnessing a private moment on a public stage. After working with her for a short time now, I see that it was entirely her bringing that out of the dancers, encouraging them to be less "performative" and more grounded in their bodies.
Jacquelin Harris
Twyla Tharp's style is a brilliant mix of natural, intuitive expression and technical movement. There is a perfect balance of groove, gravitas, and momentum which challenges me as an artist to move from an honest human place.

Ayaka Kamei
[Twyla] values our personal contributions to her work. While some choreographers might say "Do it my way," it feels empowering that she wants to know how we feel and lets us incorporate our own voices and nuances in her masterworks.
One thing she said at the audition was, "Do it from the inside out, not outside in." I keep thinking about that and finding more meaning in it throughout this process. 
Jeanette Delgado
Twyla is a force! To me, what makes working with her so unique is her incredible ability to push you beyond your limits, physically and mentally, in the most thoughtful way. She sees your potential before you can even see it.
I was fortunate to work with her while dancing with Miami City Ballet. It was the first time that a piece was being created for us by a living choreographer. I feel incredibly privileged to work again with the woman who burst open my world of what dance could be.
Stephanie Petersen
It's like you enter the room and all there is in the world is dance.
I first saw Twyla's work in the movie White Nights. I remember I was quite young and I just loved the way Hines and Baryshnikov moved. It spoke to me, the feeling of what they were going through—but with a freedom and ease that felt remarkable to me.  
One word?
SP: Galvanizing. 
Daniel Ulbricht
For me it's about working with somebody who is an icon, and not just for the sake of the pieces they've done but for how they approach the room.
The only word that comes to mind really is invigorating. I have walked out of the studio every day tireless, despite the hours of work. I feel fulfilled, I'm in the best shape of my dancing life … I feel alive!
Daisy Jacobson
Her mind operates on genius level. It goes at lightning speed, and I feel it's my job as a dancer to meet her where her brain goes.
It's really inspiring, how she thinks about the audience watching her dances. In one rehearsal she said, I think about section 5: "You want the audience to think they could come up and do it with you." It's not performing for them or showing off for them; it's letting them feel like they're dancing too. That's an incredible lesson, and it's thrilling that that's what we're trying to do here.
For more on Twyla Tharp at New York City Center, visit nycitycenter.org.