Watching Andrew Barth Feldman at the 2018 Jimmy Awards, what struck audiences (and apparently the judges, who awarded him the Best Actor top honor) wasn't his voice—it was the maturity in his acting of "I Love Betsy" from Jason Robert Brown's Honeymoon in Vegas. His deep feeling, his comic timing: This was a performer listening to lyrics and communicating story.
"That's what's real to me," Feldman says. "That's what makes it real is you're talking. That's what song is, you're just talking at a pitch." That honesty will serve him as he takes on the task of playing one of the most emotionally vulnerable roles on Broadway: Evan Hansen. He begins performances in Broadway's Dear Evan Hansen at the Music Box Theatre January 30. (Feldman will begin with five performances per week with alternate Michael Lee Brown continuing to play the other three performances as Feldman builds his stamina.)
Feldman is only the fourth actor to take on the role full time—after original Tony winner Ben Platt, Noah Galvin, and, most recently, Taylor Trensch. But he is the first who is the same age as Evan.
Acting Your Age
At 16, Feldman is a high school junior smack in the middle of the adolescence and the emotional gymnastics that come with it. "I don't have to dig back and say, 'How did I feel about this when I was a teenager? How can I pull from that?'" he says. "Being right there and not having anything to cloud that is really helpful."
But it's not just that Feldman's high school experiences are in more recent memory. Unlike any previous Evan, Feldman has come of age in the same adolescent environment as Evan. "I'm a teenager at the same time and in the same landscape that Evan is a teenager, with the social media and with mental health being more a part of the national conversation than it's ever been before," he continues.
The young actor has already felt his age shift "every relationship, every conversation" in the rehearsal room and believes it will impact the audience's view, as well. "I'm really excited to remove that layer of disbelief."
Despite these young successes and strong support system in form of family and friends, Feldman knows what it's like to feel alone like Evan. "He is what's going on in all of our heads all the time. He's just the human manifestation of that."
As similar as the world appears through Evan and Andrew's eyes, the two are not the same.
Feldman has found solace in musical theatre since grade school, when he was first cast in Annie. He's a gregarious kid—thoughtful and eloquent and excited. He's played comic relief in Shrek the Musical and leading man Danny in Grease; he's played an artist in crisis as Roger in Rent and a conman on the run as Frank Abagnale Jr. in Catch Me If You Can—the role that landed him at the Jimmy Awards in the first place.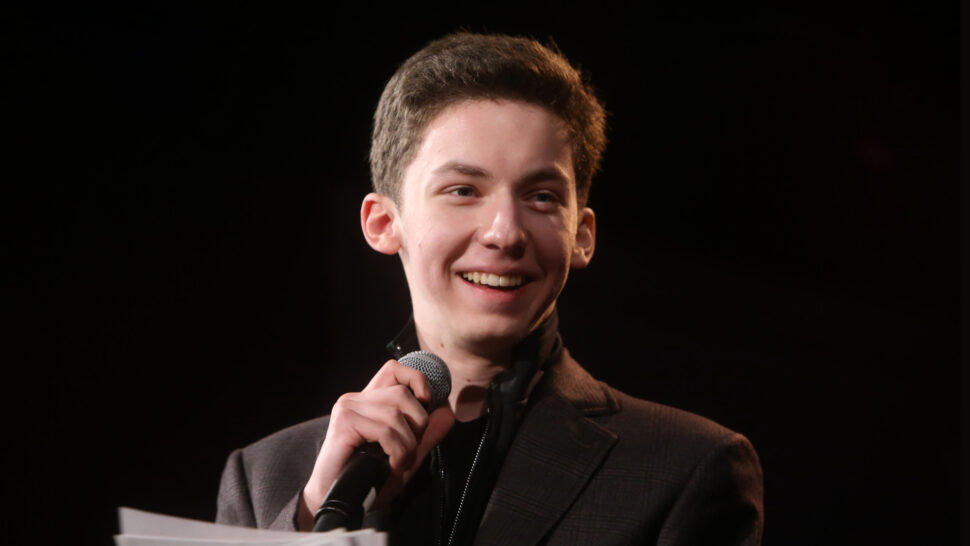 But more impressive are the full productions he leads via the theatre company he accidentally founded for his Bar-mitzvah project (a project his mother insists he had to handle on his own). He's presented a cabaret concert, Seussical, Be More Chill, The Last Five Years, and a Star Wars parody musical he wrote, all to benefit autism research. His love for the art form—and that gift with lyrics—shines through original music like the song "You And I." And yet, he inherently relates to the uneasy, socially paralyzed Evan.
"I'm playing the inside of my brain, then adding that extra layer of anxiety to it," says Feldman of discovering his version of Evan.
Getting Into Character
Previous Evan Hansens claimed affixing the arm cast or sliding on the signature New Balance sneakers provided the trigger to become the character, but Feldman's cue is wholly internal. "It's turning a switch on in my brain. It's that mentality, the isolation of Evan," he says. "Switching on the thought, 'What could go wrong?' Because that's Evan's process: What could go wrong and how can I fix it? Once I turn that constant blinking light on in my brain, that's what sinks me into his shoes."
As Feldman spends more time as Evan, he expects more revelations. "I have now what I need to give the performance, but what I'm going to get over the next year while I'm doing the show is more," he says. "He's just so real, it's just like you're hanging out with someone every day. You get to know them more and more and more, and even when you think you know everything about them there are more nuances to understand."
Dear Evan Hansen plays Broadway's Music Box Theatre (239 W 45th Street between Broadway and Eighth Avenue) in an open-ended run.
Ruthie Fierberg is the Senior Features Editor of Playbill and co-host of Playbill's Opening Night Red Carpet livestreams. Follow her on Twitter @RuthiesATrain, on Instagram @ruthiefierceberg, or via her website.