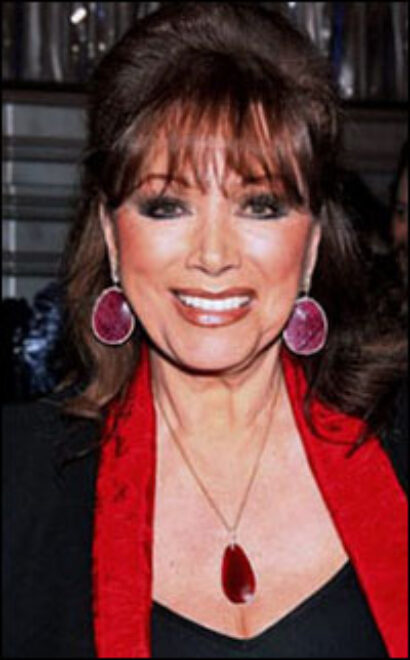 Jackie Collins: Hollywood Lies is the title of the script by the author of 32 novels, all best-sellers and many of them adapted to film and TV, notably "Hollywood Wives," "The Stud" and "The World Is Full of Married Men."
Post columnist Michael Riedel said he read the script and reported, "It reads like, well, a Jackie Collins novel, with a bit of Deathtrap thrown in," a reference to Ira Levin's long-running 1970s Broadway murder mystery. He reports, Hollywood Lies centers on a 23-year-old pop singer, Jamie Carr, who's just gotten out of rehab and whose mother, a Hollywood Mama Rose type, manages her career." Things get steamy when TMZ gets ahold of a sex tape involving Jamie and her rock musician boyfriend, and she's beseiged by paparazzi.
Riedel's verdict? "Given the right cast — cheesy actors only, please! — it might work."
There are no current plans to produce the play.
Collins was the daughter of theatrical agent Joseph William Collins, and she grew up surrounded by showbiz folk. Despite her ample links to the entertainment industry, including a stint as a concert singer and a brief career as a TV actress, she never had a show on Broadway. Her highest-profile brush with Broadway in recent years was a May 2011 a visit to Priscilla Queen of the Desert with her actress sister Joan Collins.