Concluding March 27
Lives of the Saints (Off-Broadway at Primary Stages at The Duke on 42nd Street). The world-premiere production of Lives of the Saints, a collection of short plays by David Ives, is directed by John Rando and features Arnie Burton, Carson Elrod, Rick Holmes, Kelly Hutchinson and Liv Rooth. "Lives of the Saints marks our seventh production of David Ives' work," Primary Stages artistic director Andrew Leynse said in a previous statement. "This collection of short plays, including three new pieces, is a mixture of humor, intellect, and farce and is a transformative step in Mr. Ives' mastery of the one-act form. We are thrilled to be working again with David and his long-time collaborator, director John Rando." Visit PrimaryStages.org.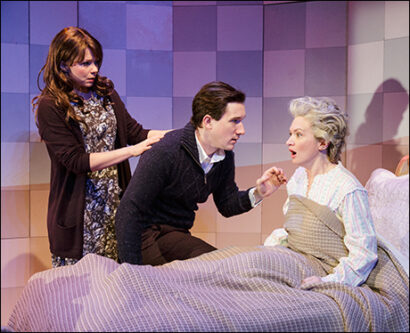 Concluding March 28
Abundance (Off-Broadway at The Beckett Theatre at Theatre Row). The Actors Company Theatre's staging of Pulitzer winner Beth Henley's play Abundance features Kelly McAndrew, Tracy Middendorf, Jeff Talbott, Todd Lawson and Ted Koch. According to The Actors Company Theatre, Abundance recounts "the breathtaking tall tale of Bess and Macon, two mail-order brides who are lured to the plains of Wyoming by the promise of new beginnings. As wild and unpredictable as the untamed West itself, this fierce and funny adventure spans a 25-year journey, unearthing along the way the dark underside of American mythology and the unbreakable bonds of female friendship." Visit TACTNYC.org.
Concluding March 29 Cabaret (Broadway at Studio 54). Sam Mendes and Rob Marshall's Tony Award-winning production of Cabaret stars Alan Cumming as the Emcee and Sienna Miller as Sally Bowles. John Kander, Fred Ebb and Joe Masteroff's musical features iconic songs such as "Cabaret," "Willkommen" and "Maybe This Time." Cabaret is set in the infamous Kit Kat Klub, the notorious pre-war Berlin nightclub where troubles are forgotten, booze is flowing and life is beautiful. The cast also features Tony Award nominees Linda Emond and Danny Burstein, Bill Heck, Aaron Krohn and Hani Furstenberg. Visit RoundaboutTheatre.org.
Every Brilliant Thing (Off-Broadway at the Barrow Street Theatre). The Paines Plough and Pentabus Theatre Company production of Every Brilliant Thing made its North American premiere, following critically acclaimed runs in London and Edinburgh. Olivier Award nominee Duncan Macmillan's play is directed by George Perrin and features Jonny Donahoe. It is described as such: "A young boy attempts to ease his mother's depression by creating a list of all the best things in the world. Everything worth living for. Through adulthood, as the list grows, he learns the deep significance it has on his own life. Every Brilliant Thing is a new play about depression and the lengths we will go for those we love." Visit NYTW.org.
The World of Extreme Happiness (Off-Broadway at New York City Center – Stage I). Frances Ya-Chu Cowhig's The World of Extreme Happiness, a Manhattan Theatre Club world-premiere co-production with Chicago's Goodman Theatre, features Telly Leung, Jennifer Lim, Francis Jue, Joe Mei, James Saito and Sue Jin Song. Obie Award winner Eric Ting directs. The World of Extreme Happiness centers on Sunny (Lim), a tenacious young woman who is determined to escape life in rural China by finding a job in the city: "As naïve as she is ambitious, Sunny views her new job in a grueling factory as a stepping stone to untold opportunities. When fate casts her as a company spokeswoman at a sham PR event, Sunny's bright outlook starts to unravel in a series of harrowing and darkly comic events, as she begins to question a system enriching itself by destroying its own people." Visit NYCityCenter.org.
The Nether (Off-Broadway at the Lucille Lortel Theatre). Emmy winner Merritt Wever leads MCC Theater's New York premiere of playwright Jennifer Haley's award-winning drama The Nether, which explores the implications of acting out our darkest fantasies in the online realm. Directed by Anne Kaufman, the cast features Ben Rosenfield, Sophia Ann Caruso, Peter Friedman and Frank Wood. Here's how the play is billed: "The Nether, winner of the Susan Smith Blackburn Prize, is a haunting thriller that will make you question when the fantastic becomes too real. There is a new immersive realm for the senses online, a virtual playground where those who plug in are coaxed into acting out their darkest fantasies – with no consequences in the 'real' world. Or so it seems…until a young female detective begins an investigation to determine if there is a point at which thought or intention may actually constitute a crime within - and outside of - this new frontier." Visit MCCTheater.org.
The Lion (Off-Broadway at the Lynn Redgrave Theater). The Lion is Benjamin Scheuer's autobiographical coming-of-age musical. "The Lion is one of those rare and unforgettable shows that disarms you, enthralls you, and then never leaves you; experiencing the show as an unknowing audience member was one of my all-time greatest theatrical experiences," producer Eva Price said in a statement. "Artists like Benjamin come along once or twice in a generation, so it is an honor to share this joyful new musical with New Yorkers looking to be inspired by this uplifting and extraordinary story." Visit TheLionMusical.com.
Nevermore – The Imaginary Life and Mysterious Death of Edgar Allan Poe (Off-Broadway at New World Stages). Nevermore – The Imaginary Life and Mysterious Death of Edgar Allan Poe, a theatrical experience combining haunting music, poetic storytelling and stagecraft to tell the life story of iconic American writer Edgar Allan Poe, is written, composed and directed by Jonathan Christenson. The cast includes Gaelan Beatty, Shannon Blanchet, Beth Graham, Ryan Parker, Garett Ross, Scott Shpeley and Lindsie VanWinkle with understudies Jennifer Byrne, Stephen Cerf and Rob Morrison. Nevermore, according to press notes, "is a whimsical and chilling musical play about the enigmatic writer who has fascinated the world for more than a century. A literary rock star in his day, Poe struggled with tragedy and addiction, poverty and loss, yet produced some of the world's most original, visionary and enduring literature before dying in mysterious circumstances at the age of 40. At once gorgeous and grotesque, Nevermore blurs the line between fact and fiction, exploring the events that shaped Poe's character and career and giving powerful expression to Poe's words 'all that we see or seem is but a dream within a dream.'" Visit NevermoreShow.com.
The Liquid Plain (Off-Broadway at Signature Center's Alice Griffin Jewel Box Theatre). Signature Theatre's New York premiere of Naomi Wallace's The Liquid Plain features Ito Aghayere, LisaGay Hamilton, Robert Hogan, Michael Izquierdo, Kristolyn Lloyd, Karl Miller, Tuck Milligan, Tara A. Nicolas, Johnny Ramey and Lance Roberts. "On the docks of late 18th century Rhode Island, two runaway slaves, Adjua and Dembi, plan a desperate and daring run to freedom," according to the Signature. "When a chance encounter triggers an unexpected collision of worlds, painful truths are uncovered and the brutality of past crimes spills into the next generation. Winner of the 2012 Horton Foote Prize for Promising New American Play, The Liquid Plain brings to life a group of people whose stories have been erased from history." Visit SignatureTheatre.org.
Brooklynite (Off-Broadway at the Vineyard Theatre). The Vineyard Theatre's world-premiere musical Brooklynite is created by Peter Lerman and Tony Award winner Michael Mayer. Based on characters created by Michael Chabon and Ayelet Waldman, Brooklynite is inspired by the real Brooklyn Superhero Supply Company. The musical features Andrew Call, Gerard Canonico, Max Chernin, Nick Choksi, Nick Cordero, Matt Doyle, Carla Duren, Ann Harada, John-Michael Lyles, Grace McLean, Tom Alan Robbins, Nicolette Robinson and Remy Zaken. "Trey Swieskowski is an idealistic hardware store clerk who dreams of becoming a superhero. Astrolass, Brooklyn's most celebrated superhero, is determined to throw in the cape and live like a normal Brooklynite," press notes state. "When they meet they hatch a plan that will change their lives forever. But can they save Brooklyn when it suddenly teeters on the brink of disaster?" Visit VineyardTheatre.org.