Heléne Yorke knows funny.
As the dim-witted arm candy of mob boss Nick Valenti—who insists upon casting his untalented girlfriend in exchange for his backing of the show—Yorke nailed that old-school situational comedy of Bullets Over Broadway; as vapid Evelyn in the musical adaptation of American Psycho, she captured the sardonic comedy of the satirical thriller.
Now, Yorke will stretch her full range of comedy chops in the highly anticipated new series The Other Two on Comedy Central. Premiering January 24, the series from former Saturday Night Live writers Sarah Schneider and Chris Kelly (and executive-produced by the duo and Lorne Michaels) stars Yorke and Drew Tarver. "Drew and I play Brooke and Cary, the older brother and sister to our burgeoning popstar baby brother," known as Chase Dreams. (Molly Shannon plays the trio's mother.) "Brooke hasn't been able to get a foothold in literally anything since breaking her ankle while trying to become a ballet dancer in her early 20s. She takes her little brother's success as an opportunity to seize every day and every random experience she finds herself in. It's her opportunity to pivot if you will, and she pivots a lot."
As Brooke leverages her brother's stardom, Yorke works the funny and vulnerable moments of The Other Two. Aside from her three Broadway credits, Yorke has a long history in theatre, including her Off-Broadway turn in Walmartopia and her recent turn in City Center's Grand Hotel.
Here, Yorke reveals the theatre performer that made her better (Hint: He's currently in The Prom) and the performance that most inspired her as she proves her theatre credentials.
What was your first professional job?
My first professional job was in the summer of 2005 at the Music Theatre of Wichita, baby! That season was Maury Yeston's Phantom, Once Upon a Mattress, Seussical the Musical, A Chorus Line, and Aida. I had the time of my life! I remember my mind being blown that I was actually getting paid to do theatre and thinking, "Shit! I hope they don't find out I'd do this for free."
What was the stage show that has most influenced you?
It wasn't so much a stage show as it was Sutton Foster in Thoroughly Modern Millie. I remember seeing her on the Tonys that year and insisting my dad take me when we came to NYC. She was so powerful and fearless and just generally perfect in every way. I hid from her recently when she came to see Grand Hotel at City Center. I'm still afraid to meet her. No one has ever made me as starstruck as Sutton Foster.
Is there a stage moment you witnessed (from the audience, from the wings, in rehearsal) that stays with you?
During Bullets Over Broadway, there was a part where we performed the "play within the play" facing upstage. It was me, Karen Ziemba, Brooks Ashmanskas, and Marin Mazzie. I don't think we got through it properly a single time. I'm chuckling while typing this just thinking about it. Brooks was playing Warren, who by that point was in his largest fat suit, stumbling around like such an idiot. I was playing a "professor" as Olive just butchering it, and Marin would always do this insanely exaggerated actress voice as Helen Sinclair. We would walk off stage with tears streaming down our faces. It was the magical combo of being onstage with those three people who I had always worshipped, and having the absolute best time.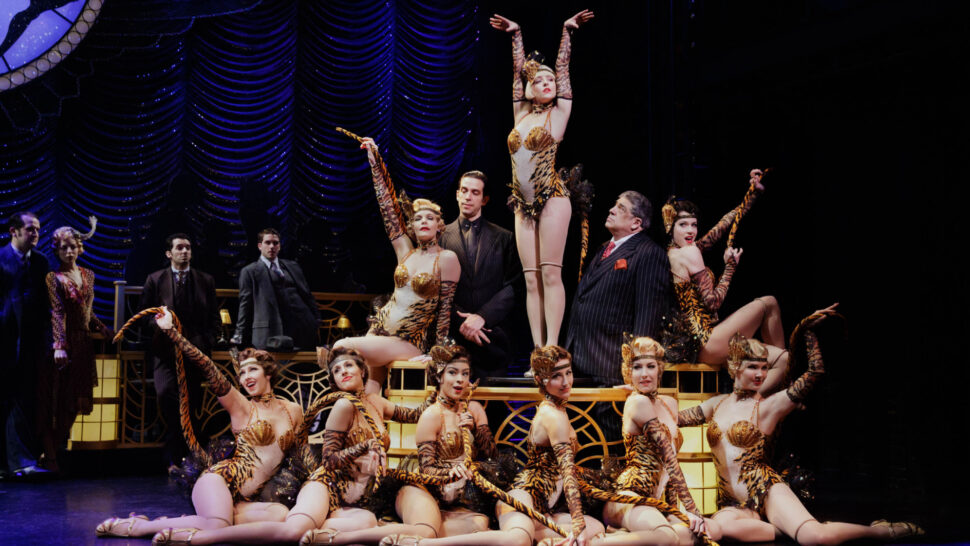 What's been the most rewarding experience onstage for you?
Figuring out what made American Psycho tick. It was such a fun script to work on, especially when we got an audience. Everything about it was so dark and yet ABSURD. I played Evelyn, and balancing what made her real and ridiculous was incredibly rewarding. Our audiences came to be surprised, and I had a blast playing with them.
Who is a collaborator from theatre who has made you better?
Brooks Ashmanskas. Rehearsing and putting on a show can be very stressful and exhausting, but Brooks makes every moment a joyride. His influence taught me to never take myself or what I'm doing too seriously. It frees you up to make choices without fear and enjoy every moment. At the end of the day, you're putting on a show. What are we doing if we're not having a good time??
What is your favorite part of doing TV that's different from theatre?
Getting fed.
What has it been like for you to fully embrace your comedy chops?
You're literally on the TV capital for comedy at CC. Mostly, I think of myself as incredibly lucky to be getting to "embrace comedy chops" with the literal best in the biz. Sarah Schneider and Chris Kelly are the coolest kids in comedy right now, Drew Tarver is one of the best improvisors out there, Ken Marino is a genius, and Molly Shannon....is Molly Shannon. I must've done something seriously heroic in a former life.
Do you have a favorite moment from the set to share?
We had a baby piglet on set for almost an entire week. Have you ever held a piglet? Highly recommend.
The Other Two premieres January 24 at 10:30 PM ET on Comedy Central.