*
Musicals often take a long and winding road on their way to Broadway. First Wives Club is no exception. Based on the 1996 movie, the show had its first incarnation in 2009, with a run at San Diego's The Old Globe. But it never made the expected jump to Broadway. Instead, it headed back to the shop for some retooling. Linda Bloodworth Thomason replaced book writer Rupert Holmes. Simon Phillips (Priscilla, Queen of the Desert) replaced director Francesca Zambello. And the great Motown team — Holland-Dozier-Holland — who wrote an original score for the Old Globe premiere — composed additional numbers and inserted some of their own classic hits for the Chicago overhaul. The revamped production opened for a pre-Broadway run at the Oriental Theatre in February.
Based on the best-selling Olivia Goldsmith novel and the movie adaptation that starred Goldie Hawn, Bette Midler and Diane Keaton, the musical centers on three college friends who reunite in middle age following a tragedy and discover that they've been dealing with philandering husbands who have moved on to young trophy wives. Now it's time for a little revenge.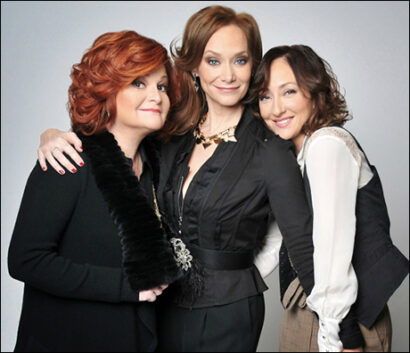 Bloodworth Thomason, the creator/writer of the hit sitcom, "Designing Women," was actually working on another Broadway-bound musical with her friend, Elizabeth Williams, when Williams — a producer of First Wives Club — asked her to join the project. Bloodworth Thomason was hesitant. But given free rein to write her own script, she accepted the offer.
First Wives Club features Tony winner Faith Prince as Brenda, who helps her oily husband build a chain of electronics stores, only to get dumped; Christine Sherrill as Elise, an aging Hollywood actress; and Carmen Cusack in the role of ad agency maven, Annie, who deludes herself into believing that her husband will come back after a trial separation. Like most of Bloodworth Thomason's work, First Wives Club, which remains set in the mid-'90s, is about more than simple comedy. Creating funny and strong female characters has always been part of her agenda. "I'm distressed by the current dumb girl culture where women are over-sexualized and Twitter is their main activity," states Bloodworth Thomason. "I'm a former teacher, so I really want girls to read books and have dignity and stand up for each other." The women in the musical were "strong, spirited rebels" in college, but life has beaten them down. "A lot of what the show is about is their journey back to self-respect and remembering what their dreams were back in 1969," says Bloodworth Thomason. "We're really talking about feminism, which nobody mentions today, but we do."
First Wives Club is Bloodworth Thomason's Broadway debut, and she credits her work on "Designing Women" as great training for the stage. She refers to that show, which starred Dixie Carter, Annie Potts, Jean Smart and Delta Burke, as "very Broadwayesque." As she explains, "With these women, when their high heels started clicking and their mouths started moving, it was very much like an old '30s screwball comedy. So in a way, it felt like putting on a Broadway play every week for seven years. Only it was on a soundstage in Burbank. I think comedy is just sort of the same wherever you do it. The rules are the same."
Reduced to its barest plot lines, First Wives Club might seem simply a story of revenge. But Sherrill, who laughingly admits to membership in the club, asserts that the show would be "a really dark musical" if men-bashing were its only merit. "I think it's a loving musical about how hard marriage can be, but also how great it can be," she observes. "And how emerging from a bad situation and becoming a stronger, smarter woman can set you on the right course for love a second time around."
Motown legends Lamont Dozier and brothers Brian Holland and Eddie Holland give the musical an added pedigree. Back in their heyday, they created hits for Martha and the Vandellas, The Miracles, Marvin Gaye, the Four Tops and The Supremes. "Stop in the Name of Love," "I Can't Help Myself" and "Reach Out (I'll Be There)" are among their tunes incorporated in the show. Eddie Holland admits he wasn't interested in creating just another jukebox musical and at first was reluctant to use the older songs. But Bloodworth Thomason and director Phillips explained how these numbers would set the mood for scenes set in 1969, during the women's college days. "They would have grown up on these songs," Holland notes. "Because of that, these songs fit easily into the show, alongside the new songs."
Even though Holland-Dozier-Holland are seasoned songwriters, working on their first musical did have its frustrations. But about two years into the process, they started to feel like they were adjusting to the rhythm: change a scene, write a new song, jettison another song and rework another to better fit the character. "It's a never-ending process and a labor of love," Holland says with a knowing laugh. "There's something about it that keeps you fired up and keeps you motivated."
With the addition of more than a dozen new songs, First Wives Club can be looked at as a hybrid. Alongside the classic tunes, newer fare — like "Shoulder to Shoulder" and "My Heart Wants to Try Again" — fit into the story effortlessly. Says Sherrill, a Chicago actress last seen in Cabaret at the Marriott Theatre, "This is true musical theatre and we're just lucky that there are some Motown tunes included. It's a really great mix of songs." The artistic team will continue to refine the show prior to an expected New York opening in the fall. "On Broadway, you need luck," says Holland. "There are a lot of moving parts in a musical and you hope they click in such a way that people feel it and relate to it and enjoy it. That's what it's all about."