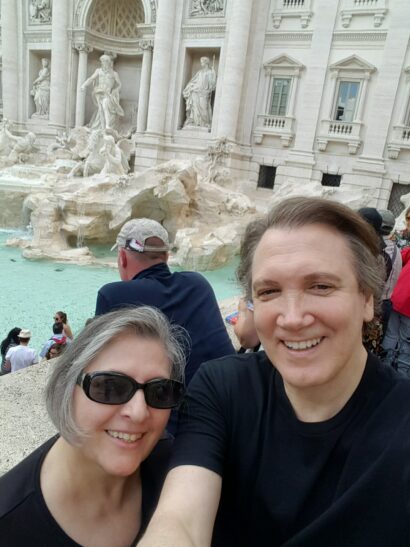 I've known my friend Kathie for 34 years, and for 30 of them she's designed my theatrical wigs. That's a lot of friendship and a lot of synthetic hair. And for all that time, her one dream has been to see Sicily, the birthplace of her grandmother. Earlier this year, I met Phil Birsh, the owner of Playbill, and on the spot he invited me to be a part of Playbill's Broadway on the High Seas cruise to Sicily.
I phoned Kathie. "Is your passport up to date? We're going to Sicily!" And off we went to Rome to catch the boat.
The Silversea's ship was surprisingly small—less than 300 passengers, all of whom had in common a great love for the theatre and Broadway. It was Grand Hotel, The Love Boat, and the Manhattan Theatre Club subscribers' lounge combined. Playbill put together a great group of performers: Faith Prince, Jennifer Simard, Adam Pascal, Andréa Burns, Laura Osnes, Brenda Braxton, Lindsay Mendez, Lilla Crawford, Kate Baldwin, Lisa Mordente, and a very talented newcomer named Chita Rivera. But the musical director and force behind everything was Seth Rudetsky. This fellow worked hard. Not only was he rehearsing and accompanying all the shows but also hosting his Chatterbox interviews. Every night someone performed a solo show, attended by all the passengers and, tellingly, all the other performers. There's nothing better than having a post-mortem drink after a show, and we all gathered in the fourth floor bar each night. It doesn't get better than Chita Rivera, cocktail in hand, relating her experiences with Bob Fosse, Gwen Verdon, and Liza Minnelli.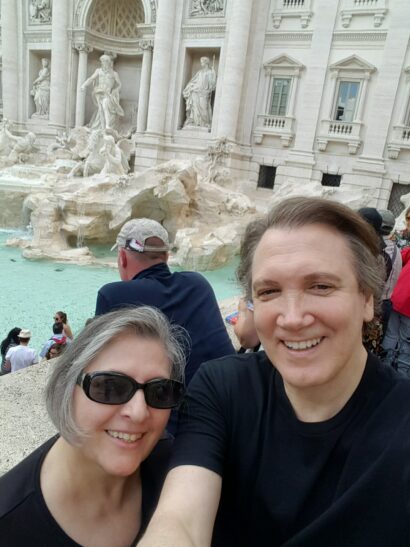 Every day the ship would stop at a different port, including Trapani, Taormina, Sorrento (with a path to Positano), Corsica, and Malta. With the option of taking organized excursion trips, Kathie and I took two. The first excursion was a drive down the spectacular Amalfi coast and lunch at a five-star hotel, and then the next day we enjoyed a wonderful guided tour of the ancient port of Malta. The entire city is created out of the same very decorative centuries-old ecru-colored stone. (You'd think some rebellious soul would put up a hot pink awning just out of pique.) The rest of the week we chose to go to shore with either one of the performers or guests and wander on our own and have a fabulous lunch. And the food! At one outdoor café, I ate a plate of grotesque, enormous raw shrimp that reminded me of something out of the movie Alien. But tasty!
I tend to see life as an old movie, and towards the end of the week it seemed as though the cruise was cast with a host of delightful character actors and special guest stars; the very brave and game old lady with the cane who insisted on climbing the steep stone steps in Corsica, the elegant Asian couple who dined by the themselves every night and seemed so profoundly in love, the wisecracking gals who run a catering business in New Haven, and the witty psychiatrist who works on Rikers Island and his delightful husband.
The final solo show of the week, naturally, was Chita's. To say she is in rare form is an understatement. She has only to make the slightest choreographic move to evoke the entire history of Broadway dance. And on the last night of the cruise, all of the performers, moi included, took part in a big variety show. The highlight of the show—and I believe the entire trip—was when Seth threw together (with one hour's rehearsal!) the entire "Quintet" from West Side Story, with Chita recreating her iconic role of Anita. Adam Pascal and Nathan Johnson were the Jets, and Seth and James Wesley a pair of rather unlikely Sharks. Andréa Burns sang Maria, and her husband, Peter Flynn, a wonderful director, sang Tony, the first time he sang in public in years. (By the way, Peter and Andréa met 20 years ago when he was cast as Tony to her Maria for a European tour.) The rest of the performers filled in the ensemble and when the music reached its soaring peak and the entire cast was singing in counterpoint—well, you just wanted to die right there.
(Take a peek at rehearsal below)

At the conclusion, all of us in the audience sprang to our feet. Andréa and Peter's 12-year-old son, Hudson, so aware of his parents' emotional connection to the material, leaped onto the stage and wrapped his arms around both of them. I'm getting a lump in my throat again just writing this down.
Nothing could top that moment, and so nothing did—we disembarked early the next morning. It's been a few weeks since we've been back and the cruise has taken on the quality of a beautiful dream. However, this is a dream that one can return to, and not just in Sicily but in the Caribbean, the Rhone, and the Rhine, or wherever Playbill and Silversea's conjure up next.
You can experience the magic of Broadway on the High Seas with our upcoming February cruise to the Caribbean. While visiting stunning ports such as St. Maarten, St. Kitts and Nevis, Antigua and Barbuda, St. Thomas and more, you'll be wowed by our lineup of unbelievable Broadway talent. Joining us is Tony winner Brian Stokes Mitchell, Tony winner Alice Ripley, four-time Tony nominee Judy Kuhn, two-time Tony nominee Howard McGillin, Tony nominee Louise Pitre, Tony nominee Tony Yazbeck, Tony nominee Melissa Errico, two-time Drama Desk nominee Karen Mason, performing icons Ernie Sabella and Bryan Batt, and Grammy winner John McDaniel as music director.
Playbill Travel operates the premier vacation programs for discerning travelers with a shared love of exotic locales and the theatre. The Broadway on the High Seas series has become a hit with hundreds of theatre-loving travelers since its inaugural voyage in September of 2011. Since its inception, over 1,000 Playbill travelers have visited over a dozen countries including Italy, Greece, Brazil, Argentina, Russia, Poland, Germany, French Polynesia, Vietnam and beyond!
For more information and reservations, visit PlaybillTravel.com.