*
Similarly to All in the Timing, Ives' new compilation of shorts is a mix of humor, intellect and farce that explores endless variety. Though the worlds of these plays appear to be completely dissimilar, they come together in the end as a cohesive whole, with surprising impact.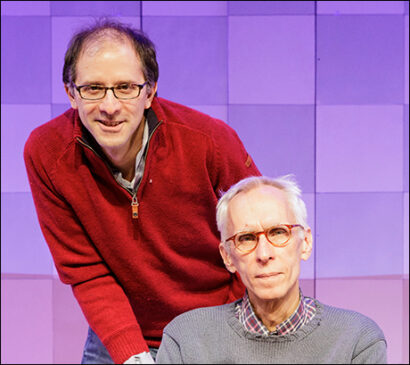 "Taken separately, they seem very different," says John Rando, "but put together you start to realize that there's a very profound thinking going on behind them, even though they're wacky and funny." As well as the show's title, Beowulf Borrit's (On the Town) scenic design, which evokes a religious relic, is another clue as to what threads the individual stories together. "In this particular bunch of one-acts we are investigating the meaning of existence," says Ives, "what a good life is; work, sex, politics and religion." Rando agrees with this, saying, "There seems to be some sort of soul searching. I like to think of it as an evening that explores the human soul through comedy and through conflict too...What can be funny and smart and profound at the same time that's what I love about his work."
Another common theme is the playwright's signature word play, which really shines throughout. In Enigma Variations, a patient visits a psychiatrist because she sees the world in double; the imaginative word play between the woman and her doppelgänger is brilliant and comic. "I love his sense of humor," says Rando. "I love his mind and how he thinks about the world. How he thinks about language in character and through character."
Rando and Ives have been long-time collaborators and began working on this particular set of plays almost 17 years ago outside of New York. In the meantime, Ives has penned new works and removed a few from the original collection, making Lives of the Saints an Off-Broadway world premiere. Ives says he continues to team up with Rando for his "comedic brilliance." "He instinctively knows how to direct my comedy," says the playwright. "I do have a style, apparently, and not everybody can do it but John just knows, in his bones, how to put these plays on stage and how to make them breathe."
"Just as these five actors," he adds, "who I've worked with before, all just know how to attack my style." The cast and creative team of Lives of the Saints have all worked together in one capacity or another, which has given the show a unique energy and sense of familiarity. "It's like a family reunion," says Ives, "with siblings that you actually love."
Carson Elrod, who also performed in All in the Timing, uses a similar metaphor. "You feel like you're going home for thanksgiving," says Elrod, "or even better, maybe less dysfunctional. We carry each other and love working together and I think you're going to see the familiarity on stage."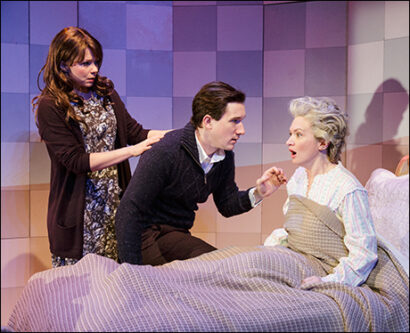 For cast members Rick Holmes and Kelly Hutchinson, it literally is family. The husband and wife duo met on Broadway 13 years ago and reunite for the first time onstage together again in Lives of the Saints. "It's super, super fun. It's a blast," says Hutchinson. The rest of the cast echo these feelings, using phrases like "incredibly special" and "dream team," to describe the project.
"This is a room without rancor or attitude or any of the nonsense," says Ives. "We just understand each other, and so it's like having fun all the time and then putting the fun up in front of an audience."
Theatregoers can expect to also enjoy themselves in this evening of short plays, filled with surprises, challenges and inventiveness. Though Ives had previously told Playbill.com that he had finished writing in the short play format, Lives of the Saints compelled him to return to it. "In this case I just had some ideas that wouldn't let me go and so I sat down and wrote them," he says. Lives of the Saints is now in previews and officially opens Feb. 24. The cast features Arnie Burton (Peter and the Starcatcher), Carson Elrod (All in the Timing), Rick Holmes (Peter and the Starcatcher), Kelly Hutchinson (Desire Under the Elms) and Liv Rooth (Venus in Fur, All in the Timing).
For more information, visit primarystages.org