Anyone who has seen a Stockard Channing performance knows that no one can throw a zinger like she can. Her dialogue seems to go through multiple shape shifts as it comes from her mouth, veering from earnestness to archness to irony to mock horror to hauteur and finally landing someone in the belly laugh region. That talent is on full display in her latest role, as art historian and activist Kristin Miller, in Alexi Kaye Campbell's Apologia.
What Channing's fans may not have quite realized, however, is that she is also one of the stage's great listeners. And that ability is evident throughout the ensemble drama about a mother, her two sons, their significant others, an old friend, a newly published memoir, and one disastrous birthday party. Directed by Daniel Aukin, every character onstage hears the other—whether they want to or not. And when Kristin gets on a roll, those around her would usually prefer not.
"If you're not of her state of mind, you may think she's just an old bitch who's attacking the system," Channing says shortly before Apologia opened Off-Broadway at Roundabout's Laura Pels Theatre, where the play will remain through December 16. "Because this is a deeply flawed human being. She's something! She's got human frailty out the ying-yang, which is one of the wonderful things about her. And she also is aware of that."
Kristin isn't given much choice, once her sons—both nursing grudges and both portrayed by Hugh Dancy—arrive at her home for her birthday dinner spoiling for a fight. Not that Kristin ever shies away from one. And over the course of the evening, everyone gets their say.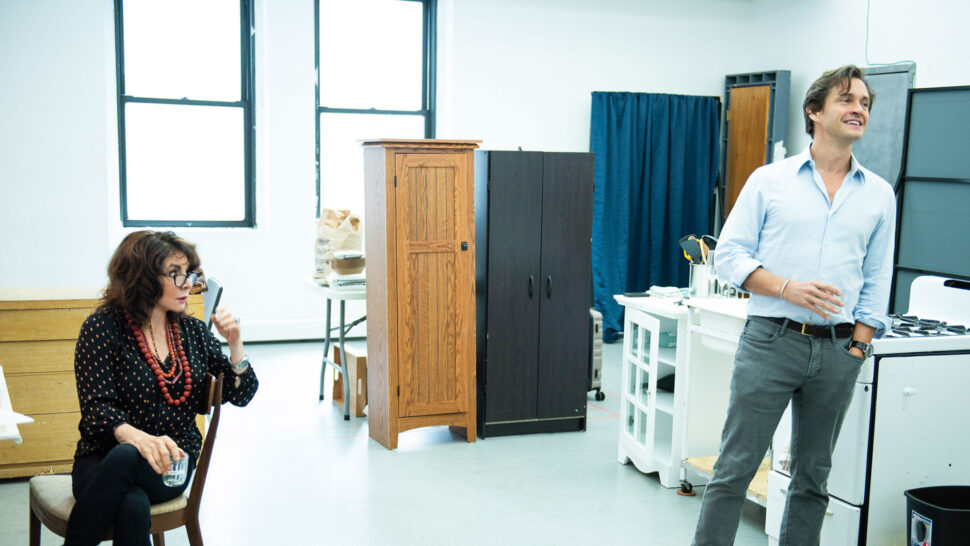 "Your audience will take away who they believe, who they don't believe, all of that," Channing says. "The play really is about memory, it's about history, and the bad actions we took years ago and the ramifications of those. It's about consequences—which is what much of life is, though, is consequences."
That's a theme that seems to recur a lot in Channing's stage work, from Other Desert Cities to Six Degrees of Separation and The Lion in Winter. Does it preoccupy her, as a person, as well?
"I think it should preoccupy all human beings," she says decisively. "Because that's what life is about, individually, politically, compartmentally. I mean… that's it!"