Victoria Clark in The Light in the Piazza
I was mesmerized by Vicki in this show. She has what I call the "salty note"; she hits a note while singing (i.e. "my little lost CLLAAAAAra" in "The Beauty Is" Reprise), and immediately you taste salt in your mouth because you've started crying profusely. It's like a superpower.
Bernadette Peters in Annie Get Your Gun
This was my first Broadway show, and it was perfect. She was vulnerable, hilarious, quirky and made an old-timey show totally fresh — I loved it.
The original cast in the "gypsy run" of The Book of Mormon
I had the worst seats in the house — top right corner of the highest balcony. IT DIDN'T MATTER. It is hands down the hardest I've ever laughed at the theater and also managed to move me deeply and make me think about our world. What more can you ask from a show?
Jeanette Bayardelle in The Color Purple
This performance will stay with me forever. She has one of those voices that you can't believe really exist; so powerful, so controlled, so full of emotion, so unlike anything I could ever do. After she sang "I'm Here," I had pretty much melted into a puddle on the ground.
Most recently, Tony Yazbeck and the whole cast of On The Town
"Lonely Town" moved me (like...tears...), "Some Other Time" made me nostalgic, "Ya Got Me" made me happy, "Come Up To My Place" and "Carried Away" made me laugh out loud. And, that second act ballet between Tony Yazbeck and Megan Fairchild — HOT.
Not Broadway (BUT IT SHOULD BE), Nick Blaemire and the cast of Found at the Atlantic Theater.
There are lyrics in the show that I haven't forgotten — "I want to do something that I love, and I want to do it with people that I love." It's such a simple sentiment, but so proFOUND (see what I did there?). Nick Blaemire was truly fantastic, as was everyone on that stage. Can they do it again, please??
Brian Stokes Mitchell in Ragtime
Soooo...I didn't technically see this on Broadway...BUT, the performance he gave in my head via the cast album deserves to be on this list. When "Make Them Hear You" plays, I literally stop moving, no matter what I am doing. It transports and inspires me. He was at our opening night of Amazing Grace and I somehow missed meeting him at the party — I'm still not over it.
Karine Bageot in Movin' Out
I saw this show when I was 16, and Karine was on for the lead role of Brenda. I had never seen a show like it before; true masters of their craft telling this beautiful story through dance and Billy Joel music. My mind was blown. And Karine was my favorite. You couldn't take your eyes off of her onstage.
Kelli O'Hara in The King and I and South Pacific (thanks PBS...)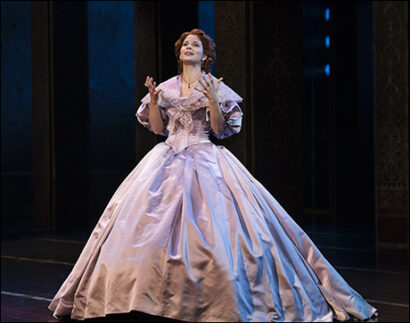 She has revolutionized these beloved musical theater heroines because there is not one false moment onstage — she is fully present, fully engaged and never overplays things. She presents the truth of the material and she is proof that that is enough. I think about the simplicity and honesty of her performance in both of these shows a lot when I'm working.
Stanton Nash in Amadeus at Baltimore Centerstage.
So, again not Broadway, and you probably think I'm biased, but my husband floored me in this show. His Mozart was hilarious, ridiculous, disgusting and heartbreaking. I truly forgot I was watching my husband up there, which is no small feat. Talent crush.